We've been having some absolutely belting weather for the last week or so in these parts – but only on the sly. The gale force winds that have been partially masking things finally abated today and the lull revealed one of those perfect spring days that make you slightly less annoyed about your inability to think straight on account of having been woken up at 5am.
What we're trying to say is that we didn't watch England v Ireland because it was sunny out. We didn't even listen to the radio. We just repeatedly watched that demented scene from Hard Target where Jean-Claude Van Damme punches a snake in the face before turning it into a lethal trap until our phone battery ran out. After that we just sat there.
Returning indoors, we see that England won. Hurray! Only not a real roaring 'hurray' because it would actually be quite nice if Ireland did well.
Unlike the first match, today's fixture seemed more like a run-scoring victory.
That said, it did end how all matches should end – with a Mark Wood yorker.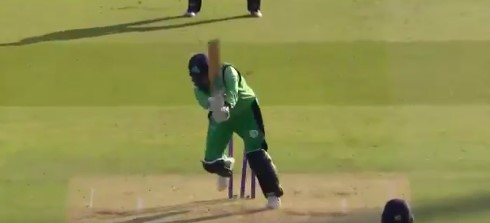 Of course if that were mandatory, it would be very wearying for Wood, what with the obligation to deliver yorkers on demand for hundreds of different teams all across the globe.
We have therefore come up with three other acceptable match climaxes.
Acceptable ways to finish a cricket match
Mark Wood yorker
Comedy run-out
Overthrows
Quietly shaking hands having accepted that you aren't going to get the overs in
Footnote
Reportage is going to fall some way short of our usual atomic clock level of reliability this week.
If by some miracle it should hit the heights of 'patchy' then you should consider that a win.