Yesterday morning, our cat Monty did a more than passable impersonation of Mark Wood's backwards press run-up as he exited the house. Despite his unutterably poor track record of predicting cricket matches, we took this as a clear sign that England would beat Ireland. And so it proved.
We've just moved into a great fat wodge of one-day internationals and after flitting between the County Championship, the IPL and the occasional Test match for the last month or so, this is actually something of a relief. There is some sort of narrative to the next couple of months with every nation moving into 50-over mode ahead of the Champions Trophy.
So what can we learn from England's first foray of the summer? Well, it was very much a bowling performance kind of day, so we should probably focus on that. However, there's one issue we should deal with first.
Beard or scarf?
If you've watched the grainy little highlights package of England's wickets, this may have been a question you found yourself asking about umpire Aleem Dar.
Having resorted to a screengrab, we're now confident that the answer is 'beard'.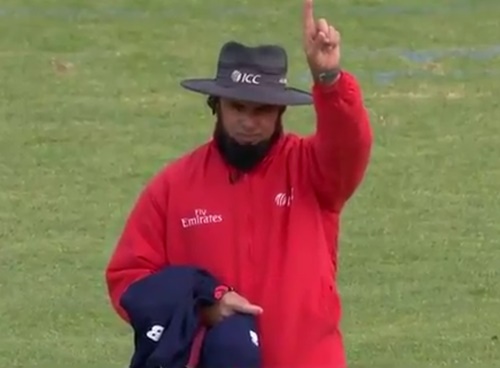 With that matter resolved, you can now watch the footage entirely liberated from difficult questions.
How good was @adilrashid03 today?

Full #EngvIre highlights:https://t.co/4ctJkAp8Ue pic.twitter.com/ZnLOHEx49i

— England Cricket (@englandcricket) May 5, 2017
So basically, the big takeaways from this (mmm, big takeaway) are that Mark Wood pinged one straight through, David Willey swung one into the pads and then Adil Rashid sauntered in when people were trying to hit boundaries and encouraged them to mishit or miss the ball.
This is actually a pretty decent overview of England's one-day bowling strategy. Every bowler has one main approach for taking wickets and Eoin Morgan tries to wheel them out at the best time to exploit it, whatever it happens to be.
'Keeping it tight' isn't much of a thing any more. It's really just a fallback.
Next match?
Against Ireland again – at Lord's on Sunday.