2
minute read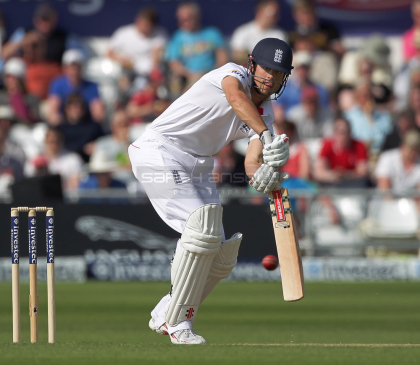 Oh for a captain who knows what it's like to win a Test series in India. England have had just one such leader since David Gower triumphed way back in 1984-85. It was, er, Alastair Cook.
This probably goes to show that 'knowing how to win in India' is just the smallest slice of the equation.
England's tour
Set aside the fact that this India side is superior to the defeated 2012 vintage for a moment, it's interesting to contrast the two England teams. The overwhelming difference lies in the bowling.
Back in 2012, we were keen to highlight that England had managed to field three or four wicket-taking bowlers, adding:
"That's not really been possible in places like India and Sri Lanka before. England normally have one or two bowlers who seem like they might possibly threaten for a bit of the time and then a couple of support acts – either good bowlers who aren't well-suited to the conditions, or county cricket makeweights who are."
We're quoting ourself for an obvious reason. Clearly, we have returned to normality.
In this series, Adil Rashid's the one bowler who seems like he might possibly threaten for a bit of the time. The other spinners, including Moeen Ali, have effectively been county cricket makeweights. All the seamers bar Stuart Broad have been good bowlers not well-suited to conditions and on this tour unable to transcend them.
Take a look at the averages. It's nasty stuff, whereas the batsmen have actually performed fairly competently.
It's interesting to ponder what Rashid's average might have been if anyone else had been chipping in and he hadn't spent 90 per cent of his time bowling to set batsmen.
India's future
On the Indian side of things, Virat Kohli appears to have achieved something beyond even his quarryload of runs. He has put his shoulder to the weighty Indian system and somehow shunted it in a different direction.
The team has historically been reluctant to field five bowlers, preferring instead the insurance of a sixth batsman, even in conditions where runs have been readily available. Kohli has however insisted upon it, even when spinners have been likely to do most of the work.
The effect has arguably been threefold. The remaining specialist batsmen, with another rival vying for their place and greater responsibility thrust upon them, appear to have responded well. The all-rounders and lower-order have also upped their game batting-wise.
In the field, the fresher seamers have been sharper and more incisive, while the fifth bowler has provided an additional option.
It's easy to say that Kohli's lucky enough to have the players to do this, but we'd make a strong argument for his having contributed to those players becoming what they currently are.
Conclusion
In the 2012 series, Virat Kohli averaged 31. In this series, he averages 128 and has access to a bowling attack that permits him to attack from all angles.
In 2012, Alastair Cook made three hundreds and had access to a brilliant left-arm spinner, a brilliant right-arm spinner, plus a highly effective version of Jimmy Anderson.
Captaincy's a piece of piss if you can ensure you inhabit the right year. Sometimes you eat the bear…