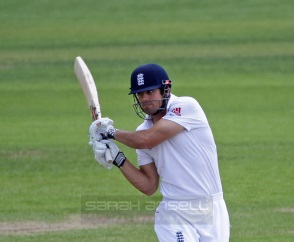 England haven't stagnated. They're just worse at bowling and facing spin than India. And playing Test cricket in India involves bowling and facing an awful lot of spin.
So rather than howling about normality, now might instead be the perfect time to revisit the monumental achievement that was England's 2012 tour. Reviewed through the prism of the last few weeks, we can better see that series win for the glorious aberration it truly was.
But back to stagnation
There was no point in the last few years when England were a better spin conditions side than India. If there's been a significant change, it's that England have been obliged to play Test cricket in India. They should be able to avoid that activity in the immediate future, so the side's already on the up-and-up.
Yesterday we wrote about perceptions of pitch flatness. We're less than delighted but not entirely surprised to have had our subtext made explicit. England lost ten wickets for 104 runs in 48.2 overs today. The last six wickets fell for 15.
But this doesn't sum up the tour. You don't lose a marathon by half-an-hour in the finishing straight. This last collapse was just the cracking of a side subjected to prolonged stress. The 'lazy' shots and apparent incompetence were just a manifestation of all that had gone before.
What had gone before?
Just an awful lot of being worse. India weren't twice as good – as today's result perhaps implies – they were just reliably better at almost everything, day after day after day. It wasn't just the obvious elements, like spin bowling, it was also the related ones, such as bowling seam on Indian pitches.
Playing at home does confer certain advantages. A necessary reliance on spin bowlers is a major one that is always likely to make an India side more effective and an England side less effective. However, it's hard to avoid concluding that this particular version of England has been more affected by this than most.
Every team is skewed towards some style of cricket or other, but the relative paucity of good spinners and turning pitches in the county cricket ecosystem means England don't just struggle for bowlers, they also lack spin-adept batsmen.
Can you summarise this with some sort of reference to DIY?
If you need to saw through a floorboard, you can get the job done with a hand saw. It'll take you a few minutes. However, if you have a circular saw, you can do the job in seconds. This is before you even get started on the plumbing, rewiring or corpse-concealing that necessitated the floorboard removal in the first place.
England set out for their winter tours with a plastic box full of hand-me-down tools and they made do. In Bangladesh, they managed to get some sort of a job done by improvising with pliers and adjustable spanners. Against India and their van full of professional equipment, they simply couldn't keep up.