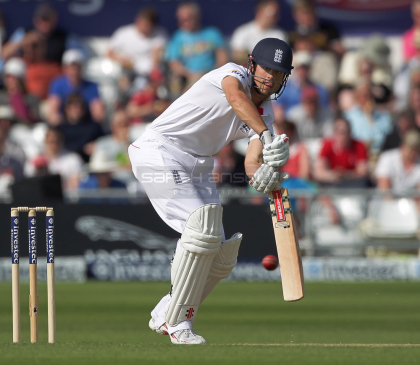 Alastair Cook has looked jaded. The modern way is to throw things away when they're past their best. They left it too late, but we'd have had a go at recycling.
A routine can be a great way to continue doing things well. Once things start to deteriorate, it can be an even better way of doing things worse and worse and worse.
Cook seems to have been stuck in a downward spiral in recent times. Every opening bowler has known exactly how he was going to play to the extent that plans don't even need discussing any more. Cook has responded to this by batting in the same position in pretty much exactly the same way.
We all know by now there's no changing the second part of that, but maybe he would have found batting at three an invigorating change. It seems such a small thing and might in practice have only seen him arrive at the crease one ball later, but it would have rocked Cook's world.
Doing things that feel very different can sometimes derail you from a somewhat mindless routine. It can force you back to the more fundamental thinking that first gave rise to what was once a very effective way of going about things and which is the real basis for your success.
That particular double espresso has of course been rejected, but England will still get a brand new opening partnership.
Breaking up the rigid, passive, left-handed opening partnership
As opening partnerships go, Cook and Keaton Jennings was the opposite of alchemy. Two valuable materials were combined to create something entirely worthless.
The two players were entirely non-complementary, each serving as entirely non-threatening practice for bowling at the other. Bowlers got in a  groove so magnificently perfect even Bootsy Collins was jealous.
We'd give Jennings a go batting with someone else. Pick at least two qualities out of right-handed, aggressive and adept at finding singles.
Equality in the opening partnership
This is important too, we feel. Walking out to bat with Alastair Cook in the last couple of years has been a hugely diminishing thing to do.
Doubtless you're supposed to be all pro cricketer, alpha male unfazed by it, but it's just such a fundamentally unbalanced thing to do. Would you even bother offering him a titbit of advice if something scudded across your consciousness, or would you just leave him to it?
Would it feel like you were one half of a partnership or just the main guy's latest short-lived fling?
Maybe there was a way that Alastair Cook could have carried on, but a new opening partnership was long overdue.