4
minute read
Bert writes:
The final day of the Edgbaston Test wasn't supposed to be that. In fact, at tea on day two, there was considerable doubt as to whether the final day would actually happen at all. Not that there wouldn't have been a final day, of course, that doesn't make sense. What I mean is that the day that ended up being the final day might not have happened. No, hold on, I don't mean not happened in an astronomical sense, that would be very strange. I meant that the final day of the Test match wouldn't have been played on the final day, having been played instead on what became known as, with hindsight, the penultimate day, not the final one.
Anyway, thanks mostly to the distinctly untypical efforts of some Australians, the final day did happen. This was good, because I had a ticket. No, not a ticket – a Corporate Hospitality Pass. This is better than a ticket. Tickets go in your pocket, Corporate Hospitality Passes go round your neck. This, together with a casual jacket and open-necked shirt, preferably stripy, mark you out as different from the hoi polloi. Inwardly I raged against the injustice in society that fosters such divisions, but as if reading my thoughts, a lady brought me a bacon sandwich. I relaxed.
At lunch a famous man stood up to introduce two other men, who then talked to us. The first man was missing a neck, which made me wonder where he hung his Corporate Hospitality Pass. The second and third men were also famous, probably more so than the first man, and representative of the two teams playing. They discussed the state of play, each adopting opposing and deliberately provocative stances from which they obdurately refused to shift. We learned nothing.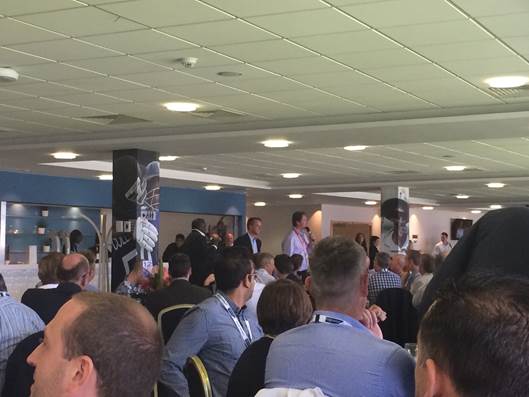 In the afternoon I chatted to the man next to me. I didn't know him, but apparently this sort of networking is what these corporate things are all about. Nice rhythm Hazelwood has got, I said. Yes, agreed the man. He looks like he could do well in English conditions, I offered. Quite, said the man. Perhaps he will come into it a bit more at Trent Bridge, I said, if the conditions favour a bit of lateral movement. Very possibly, said the man. By the way, he added, is this the first Test or have they already played some? I stopped talking to him.
I looked around the stand at my fellow pass-holders. I noticed that they were all just that – fellows. To a man, as it were. It would seem that to get a Corporate Hospitality Pass for the cricket, what you don't need is to be even vaguely interested in cricket. What you do need, however, is a cock and balls. I looked at my pass to see if there was a genitals code alongside the dress code. I checked my genitals to make sure I conformed. Always a nervy moment, but I was fine. It's not that there weren't any women there, just that all the women present were wearing identical pink dresses and handing out bacon sandwiches. They didn't seem as if they'd been selected for their cricket knowledge, but that might be unfair. I decided to protest at this state of affairs by increasing my rate of intake of champagne. That'll show 'em.
Ged was also at Edgbaston that day, but I couldn't get across to see him. I did try, but the man I asked wasn't sure why I would possibly want to leave the ignorant, misogynistic, smug, self-satisfied atmosphere of Corporate Hospitality to venture into the still-not-very-cheap seats. In any case, while my Corporate Hospitality Pass got me free drinks and food, it couldn't get me into the rest of the ground. I took this photo instead. Think of it as Where's Wally, but with Ged.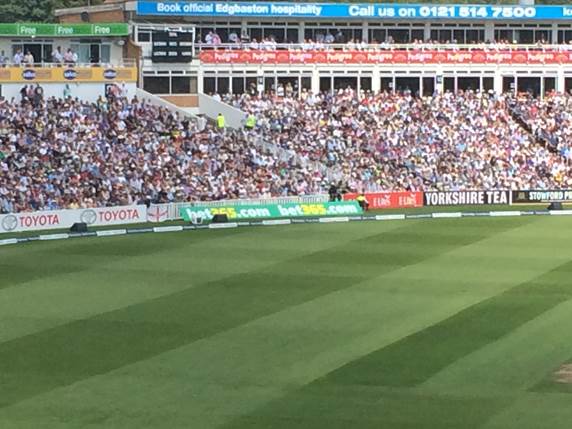 By the time I got back to New Street Station, it had become more blurred than it was in the morning. I've noticed this about stations, which I tend only to use for days at the cricket. I suspect that the constant movement of trains in and out smears reality around a bit. There's a burrito shop at New Street. I can recommend it highly, ideal for the busy man in a casual jacket with a pass round his neck who is properly drunk at five-thirty. Worth being aware, though, that in this place hot means hot.
There is a prize for the winner of the Spot-The-Ged Competition. Ged is banned from entry, of course. The prize is a week's holiday in Skegness at your own expense. There is also a bonus prize of a fish supper (in Skegness) for identifying the famous people in the first photo, all FOUR of them. The bottom photo might also contain some famous people, it's hard to tell, but if you spot any do be sure to let us know.
Send your match reports to king@kingcricket.co.uk. If it's a professional match, on no account mention the cricket itself. If it's an amateur match, feel free to go into excruciating detail.