2
minute read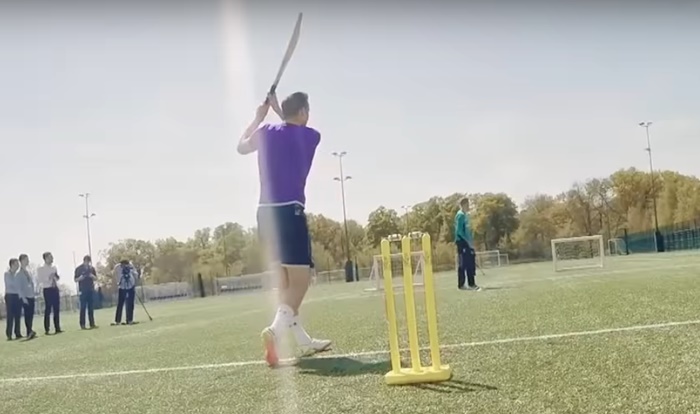 Here's an important fact about footballers. There are only two types of footballer: (1) the ones who look fairly normal holding a cricket bat, and (2) the ones who do not.
Recent examples of (1) include Joe Hart and Gary and Phil Neville. Gary was good enough at cricket bat holding that he opened the batting with Matthew Hayden in the Lancashire leagues (although his cricket pedigree is more firmly established in our eyes by the fact that he was once mankadded).
Recent examples of (2) include pretty much everyone else. It is honestly jaw-dropping how awkward non-cricketers can make the holding of a cricket bat look. They often hit the same level of awkwardness as a person trying to throw something very hard with their wrong hand. (If you've never seen someone try and throw something very hard with their wrong hand, go and watch some videos on YouTube. It's top level entertainment. On a friend's recent stag do we all spent well over an hour throwing stones at an umbrella with our wrong hands. It was absolutely the best part of the whole weekend – and it was a good weekend.)
This week the ECB somewhat inexplicably uploaded a 2016 video in which Stuart Broad and Harry Kane took on Moeen Ali and some guy called Tom Carroll in a series of challenges that are sort of related to football and cricket but mostly aren't.
The main thing we were wondering before we watched it was whether Harry Kane could hold a cricket bat or not. We got our answer and we learned a few other things too though.
These are the main things that we learned from watching the video:
Harry Kane can hold and swing a cricket bat
Tom Carroll is a footballer
Tom Carroll is one of those people from the South-East who will always say 'beans on toast' in a shrill voice rather than 'post' in a normal voice
Footballers routinely kick harder than cricketers and cricketers routinely throw harder than footballers
Five minutes is an absolute eternity in the world of cross-sport 'viral' video content (Spurs covered the exact same contest via TWO six-minute videos)
Feel free to start watching the video before getting a bit bored and skipping forward a bit and then maybe going straight to the end in case something more interesting happens then (it doesn't).