3
minute read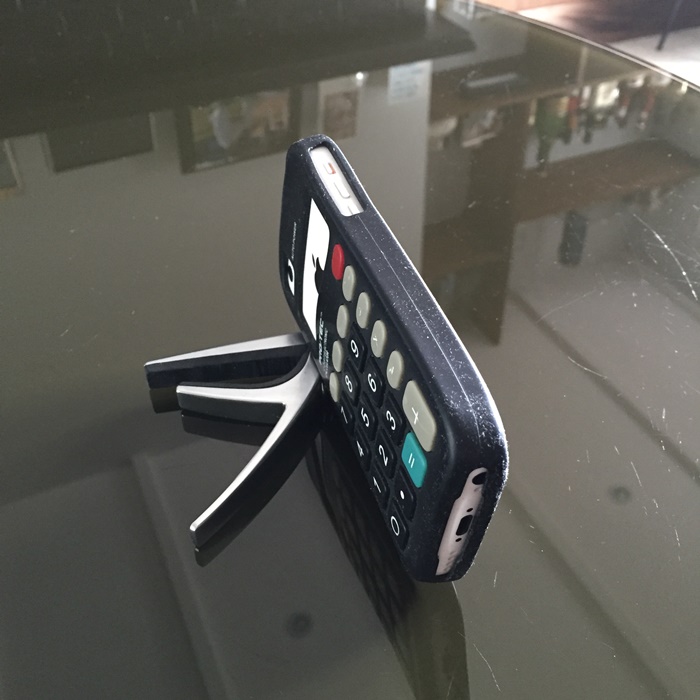 My name is Ivan. I am Ged's smart phone. One of the few things I cannot do is take a selfie; my friend Ida took this picture. I wear a protective cover in the style of an old-fashioned calculator. I am told that this is a joke.
I went with Ged to see a cricket match in Chelmsford, the principal settlement of the City of Chelmsford and the county town of Essex, in the East of England. We travelled to the ground by train and on foot. I could explain all the detail of the journey to you; I planned it after all, but Ged says that I must not be too wordy in my match reports. He also says that I shouldn't mention the actual cricket. I can follow rules.
When we arrived at a little park across the river from the ground, Ged asked a steward for help, as for once I could not answer Ged's question. The steward pointed to a security check in the park, near which we saw some chavs knocking back bottles of Champagne at 10.45am.
Ged went forward for his check.
"Do you have any glass bottles or glasses?" asked the steward.
"No," said Ged. "I read the ticket carefully. So I brought only plastic bottles and glasses."
"Stroik a loit, knock me darn wiv a fever and shoik me 'and, squire," said the steward, putting out his hand for Ged to shake. "Yer the first proper gent today."
I identified the accent as Dick van Dyke.
I kept Ged and Charley the Gent Malloy in communication during the journey, so Ged knew exactly where to go to find Charley. Unusually, Ged did not wipe his feet as he entered the pavilion, but he did wipe them as he left the building, heading for the viewing benches in front, where Charley had saved him a good seat.
"No chance of us trying your famous bottle of red wine today then, Charley," said Ged, showing Charley his little plastic bottles of wine. "Glass prohibition and all that."
"Oh I pay no attention to that guff," said Charley, producing a proper glass bottle of wine. "But I thought white would be better than red today; it was so hot yesterday."
I had taken Ged and Daisy to Wimbledon that day and indeed it had been so hot my circuits overheated. I had to sleep for most of the day. I am pleased to report that no such overheating occurred on this occasion. I should say, though, that the Wimbledon surroundings were somewhat more salubrious than Chelmsford. Still, Mrs Malloy had prepared a similarly splendid picnic, with chicken rolls, cheese ones and also some with corned beef – the latter I think Charley rather hoped would be rejected by Ged, but Ged enjoyed his fair share of everything, including the nibbles, biscuits and cake.
Towards the end of the day's play, we all relocated to the other side of the ground to get a different view. During a short rain delay, a steward protected the field of play. He was jerking around with Southern Dragon Kung Fu moves, as if fighting his own demons.
"Are you all right?" asked Charley.
"These bloody flies at this time of the evening," said the steward. "They're awful."
Ged and Charley had not encountered any flies, but decided to leave that area and return to the pavilion.
Soon after that, Mrs Malloy joined us for a few minutes at the end of the day, during which time Daisy phoned in from the Hampton Court Palace Flower Show. All too soon, Ged and I were on our way back to the station, after agreeing that, one way or another, we had all enjoyed a splendid day in the country.
Send your match reports to king@kingcricket.co.uk. If it's a professional match, on no account mention the cricket itself. If it's an amateur match, feel free to go into excruciating detail.