2
minute read
You've got to keep your eye on Hampshire – they're devious fiends.
If you were to attempt to prosecute Hampshire for the crime of sly deviousness, Exhibit A in your case would be their continued use of a relentlessly accurate seam bowling attack, none of whom are likely to get called up for international duty. Assembling a team like this for the County Championship is tantamount to cheating.
This week they pulled another breath-taking sly dog move by playing cricket. Surrey and Warwickshire will be kicking themselves they didn't think of that one.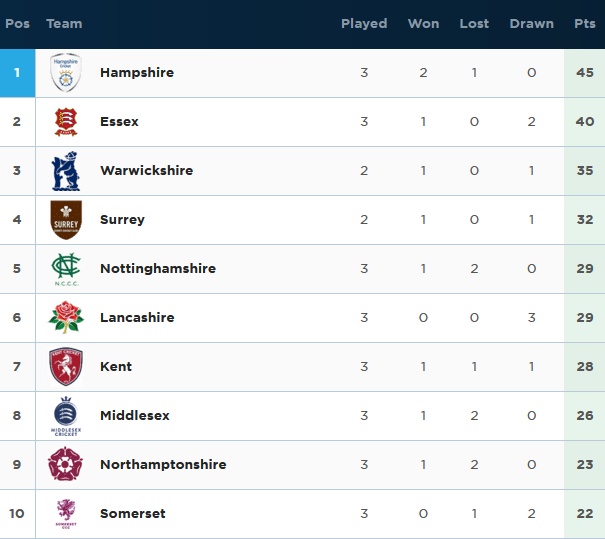 But it doesn't end there. As far as we can make out, much of the UK beyond the boundaries of the balmy North-West was blighted by rain last week. This resulted in a lot of drawn matches. The exceptions were a helter skelter run-chase from Middlesex after Nottinghamshire declared with 40 overs of the match remaining and Hampshire's win over Northamptonshire, which they achieved by not letting their opponents bat for very long at all.
If there's possibly rain about, why not just bowl the opposition out for 149 and then 63? That way you don't need so many overs. One of Hampshire's spare seamers, James Fuller, kept Northamptonshire's first innings under 50 overs with 6-37. The second then lasted just 22.3 overs with King Cricket county round-up stalwart Mohammad Abbas taking 4-31 and Kyle Abbott 3-9.
The conspicuous absentee here is of course Keith Barker, who has reportedly fractured not one, but both hands. Our initial feeling was that this had all the makings of a very colourful story. However, it seems that they are in fact two separate injury incidents, both sustained while batting against Surrey last week.
The lesson here is that while playing cricket can sometimes get you to the top of Division One of the County Championship, it's not necessarily always a good idea.
Stick with King Cricket this season by getting the email.