2
minute read
Warwickshire have only won two of their four games, yet both those victories have been scary enough to take them equal top of the County Championship.
Last month Warwickshire secured one of those innings victories where even the term 'innings victory' doesn't really do justice to the margin. They took 20 Kent wickets on a pitch where only four of their own batters were dismissed.
That was a proper thumping, but it was also only Kent. (Sorry Kent, but, you know…) Last week they were up against Hampshire – who at the time were second in the table. They won that one by an innings and 84 runs.
Again, Warwickshire lost only four wickets – plus the additional four that all teams are legally obliged to lose to Mohammad Abbas. (They lost eight wickets.) Four batters passed 50, although we note that the flow of wickets in the match only halted once Sam Hain arrived at the crease. He made 85.
Either side of this, Warwickshire rolled their opponents for 229 and then 97. Chris Rushworth, formerly of Durham, took 7-38 in the second innings and 10 in the match.
While this was unfolding, other early frontrunners were faltering a little. Essex could only draw with Surrey and Surrey could only draw with Essex, while foolish Middlesex entirely forgot to play cricket and slipped down to fifth as a consequence.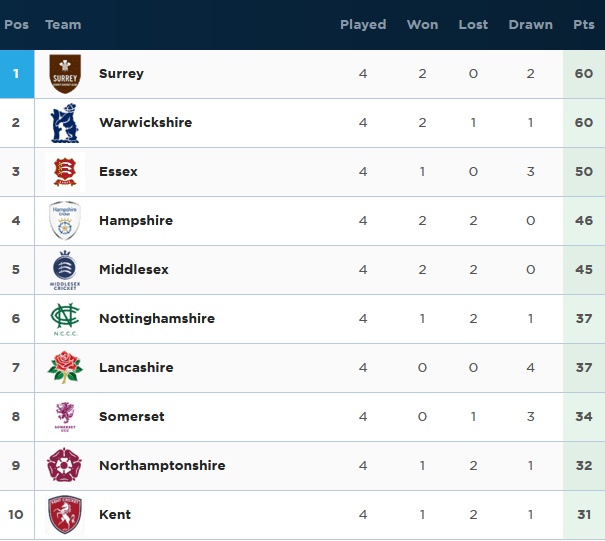 A quick word too for an ostensibly nondescript result between two teams in the nondescript part of the table with Nottinghamshire's Stuart Broad and Olly Stone securing a nine-wickets-down draw against fellow England seamer James Anderson and Lancashire. Cricket's greatest batter made 3 not out off 50 balls.
Our county cricket coverage is going to inch along for another couple of weeks more before taking a big old Test siesta. Sign up for the email here.