2
minute read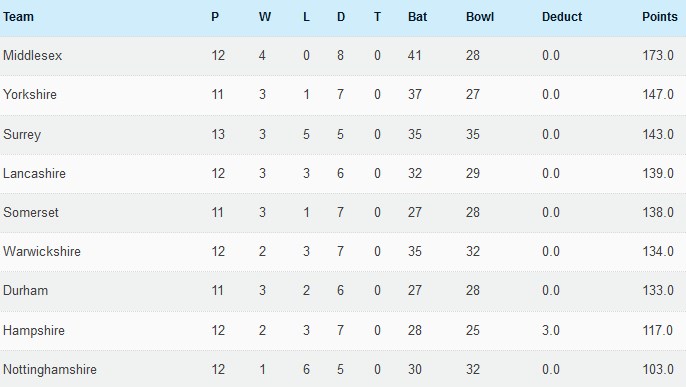 Some really important stuff to come on this site later in the week, so let's crack on with this. First things first – what the hell are Surrey doing in third?
They beat Warwickshire
It's not really happened for Warwickshire so far this year – and this with Ian Bell and Jonathan Trott playing nearly every match as well. Against Surrey, they cobbled together 247 in their first innings, which was fine because Surrey had made much the same, but then their cobbling skills departed and they were bowled out for 169 in the second dig. Surrey had made 390 in the meantime so that was nowhere near enough.
Sam Curran took 5-42 in Warwickshire's first innings and made 62 in Surrey's second. It was all a bit 'everyone chipping in' other than that.
Middlesex beat Durham
At Lord's as well, which is quite unusual this season. Durham were oddly piss-poor and lost by an innings. Ollie Rayner took nine wickets, which is more than handy. Nicks Gubbins and Compton made hundreds.
Yorkshire drew with Lancashire
And in all honesty were on the receiving end insofar as that's possible in a draw. The alphabet-straddling AZ Lees made a hundred but was comprehensively outdone by his Lancastrian opposite number, Haseeb Hameed, who made two. The lad's obviously going to play for England at some point, but when? He wouldn't be the first batsman to follow up a cracking debut season with a shonky second one.
Hampshire beat Nottinghamshire
Bad news for Notts who are now somehow bottom. They seem to have a lot of very good players who aren't playing particularly well. Brad Wheal took six wickets for Hampshire in the fourth innings. He's one of them Saffers with a British passport, like everyone else in county cricket.