2
minute read
Surrey are 20 points clear of Essex with a game to go. The crucial piece of information that you probably don't quite have at your fingertips is that a maximum of 24 points can be scored in a game.
We suppose there's always an outside chance Surrey could shed a few points for a duff pitch or financial mismanagement or historic racism, but you'd have to say they're in a pretty comfortable position.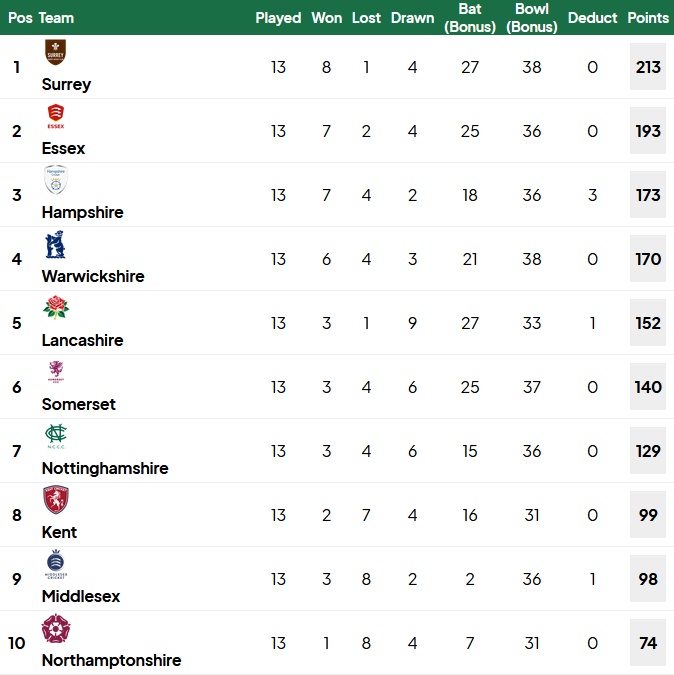 Their final game, starting tomorrow (Tuesday), is against Hampshire, who successfully chased 267 in the fourth innings to piss off Essex last week.
For their part, Essex will be playing Northamptonshire who – funnily enough – had rather the better of a draw with Surrey, but still got relegated and have therefore presumably lost any appetite for zany declaration shenanigans.
Realistically, we're in a place where enough moderately unlikely things have to go Essex's way that a Championship victory becomes very unlikely.
They've had a hell of a run after a slowish start though and what's interesting to us is how their same-old, same-old foundations for success contrast with Surrey's Borg-based approach.
Just to give some sense of that, Essex's top three wicket-takers (who we won't even bother naming) have taken 160 wickets between them, while Surrey's (who do need naming – Jordan Clark, Dan Worrall and Sean Abbott) have taken 131.
Surrey's fourth-, fifth- and sixth-highest wicket-takers have then contributed a further 77 wickets, whereas Essex's have added just 53.
That's not a comparison of strengths and weaknesses. It's just a contrast in how work is shared about. It's similar with the batting, where you can see a much more obvious Essex first XI.