3
minute read
Send your match reports to king@kingcricket.co.uk. We're only really interested in your own experience, so if it's a professional match, on no account mention the cricket itself. (But if it's an amateur match, feel free to go into excruciating detail.)
David writes…
I should have recognised the omens when I saw that the man speaking oddly in the bus queue had actual tin foil inside his baseball cap.
It is not often that you see a modern cliché made flesh and I'm sure it's one of the signs of the imminent apocalypse.
But the number 27 bus from Yeadon Morrisons got me to Headingley ahead of schedule and as I waited outside the ground Alex Hartley and Andy Zaltzman brushed past. It was the first time I'd ever seen the News Quiz host, who either has an unusually smooth and textured complexion or wears make up for his behind-the-mic job.
I wasn't waiting long for my son Harry, whose birthday present this was.
He was born on December 16 and we were rapidly approaching the first anniversary of my buying tickets for the first England v Ireland ODI.
Those tickets were bought in the expectation the game would offer a final chance of fine-tuning ahead of the World Cup.
There was no mention in any of the promotion that England would play a second-string eleven and rest 14/15ths of the World Cup party – and certainly no indication in the ticket price.
We did get to see the first-string ground staff in action. Playing a long innings, staying out there for hour after hour without actually achieving any great result in a style familiar to anyone who remembers Geoff Boycott.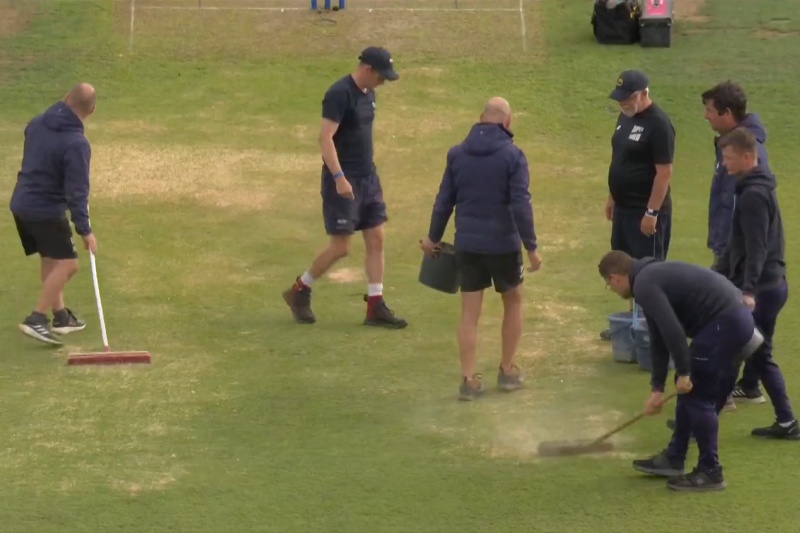 Our own stolid effort was broken up by two trips to the bar (I'm afraid I disobeyed the signs on the walls and stacked our two recyclable beer glasses together) and one to get a coffee.
We also visited the Yorkshire cricket museum and admired the gloves that Ben Stokes wore when he made that Ashes century here in 2019. They were remarkably white and pristine – maybe it is not only minor royalty that doesn't sweat.
Of course we saw some cricket. Numerous games broke out behind the stands, using an astonishing range of implements. If the head of Nokia had been there, I'm sure he'd design his next model with a long handle and rubber grips.
We saw some cricketers. It may have been a school day but attendance officers in Yorkshire know the importance of cricket and the occasional emergence of an England player from the pavilion caused a stampede of young autograph hunters.
We saw some umpires. At 2pm, 3.15pm and 4.45pm. Three official inspections. They were still out there when the inconclusive results of the first two were announced on the public address but safely back inside when the abandonment of play was revealed, to plenty of booing.
Some might have stayed to ponder how a match can be called off after three dry hours, due to the wetness of an area that was covered.
But we know this county has more to offer. When tennis at Ilkley was rained off in the "summer" we switched to horseracing at Thirsk, so we dashed to Burley Park station for the 5.16 train. Which was cancelled. Obviously.
So it was an Uber to Leeds followed by a train to Huddersfield and a walk to the John Smith's Stadium, where Stoke City – my team, not Harry's, but he's a loyal son – managed to squander their significant superiority and stumble to a 2-2 draw.
I attach a photo taken on the return journey, showing our excitement at the end of a day at the cricket.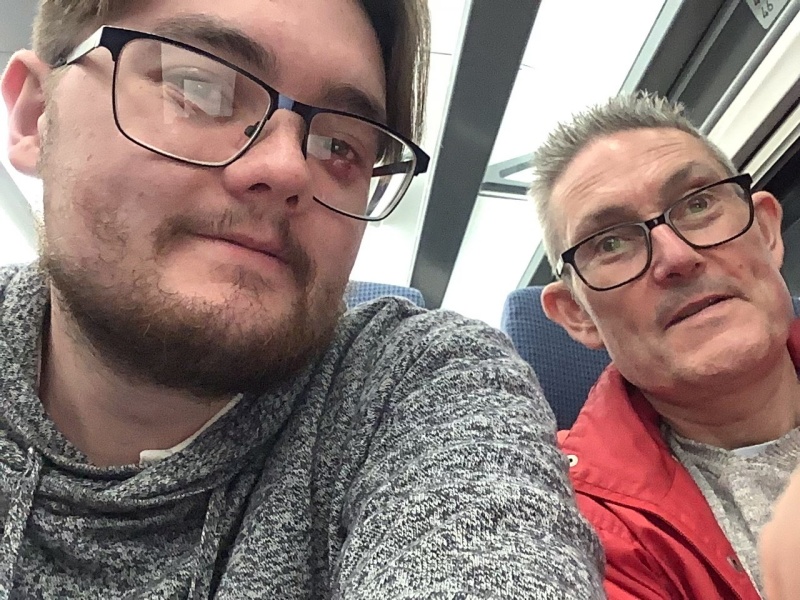 I've made a note of the date of England's ODI against Australia in late September of next year and am trying to remember how we wrapped up a notification of ticket purchase as a birthday present.
My friend from the Yeadon bus queue is not the only one who refuses to let facts and experience get in the way of how I would see the world.
Two in a row. Sign up for the King Cricket email to get more reports from matches that were complete washouts.