3
minute read
After securing a big win over Kent on Saturday, Surrey are even more top of the County Championship. This should be no great surprise being as they're reigning County Champions, but it's still not entirely clear to us how they're achieving this.
Last week the gap between Surrey and second-placed Warwickshire had expanded from zero points to three. It's now 25 – in large part because Warwickshire forgot to play, but also because Surrey managed a 10-wicket win.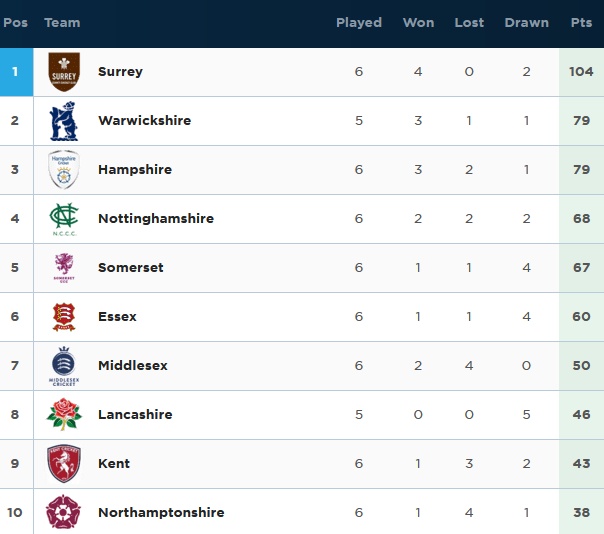 Whenever we look at a scorecard for the first time, we always ask ourself the same question: "Who did the damage?"
Which bowler got the wickets? That's always our first question. And usually when it's a winning team, we'll have a name in our head already.
We touched on this at the start of the season when Mohammad Abbas and Jamie Porter immediately got back to doing what they pretty much always do. Hampshire have skittled their opponents? Oh that'll be Abbas – or if not him, Kyle Abbott or Keith Barker. Essex have shot someone out? Oh that'll be Jamie Porter or maybe Sam Cook or Simon Harmer.
The story's much the same with Warwickshire, where Rushworth and Woakes are obvious Chrises to look for and Hannon-Dalby is an obvious Oliver. But Surrey? They seem to be forever surprising us.
In the field
Surrey's batting is very familiar with Rory Burns and Dom Sibley at the top, followed by Ollie Pope and with Ben Foakes quietly seething somewhere a bit further down the order a spot ahead of Will Jacks.
But the bowlers? Surrey have Sam Curran, Tom Curran, Reece Topley and Kemar Roach in their 2023 squad. And if they've bowled their opponents out for 141, it'll probably be none of them who've taken the wickets.
Surrey seem to positively delight in (a) selecting bowlers about whom we have no strong opinions and (b) instructing them to take regular cheap wickets.
A few weeks ago we mentioned not really knowing Dan Worrall and the inevitability of him being a 30-something seamer from Australia. This week he was opening the bowling with Jordan Clark, a 30-something all-rounder who didn't always get a game for Lancashire and who we're pretty sure never opened the bowling for them. Both men took three for 60-odd in Kent's first innings, which is a very share-the-work-around Surrey way of going about things.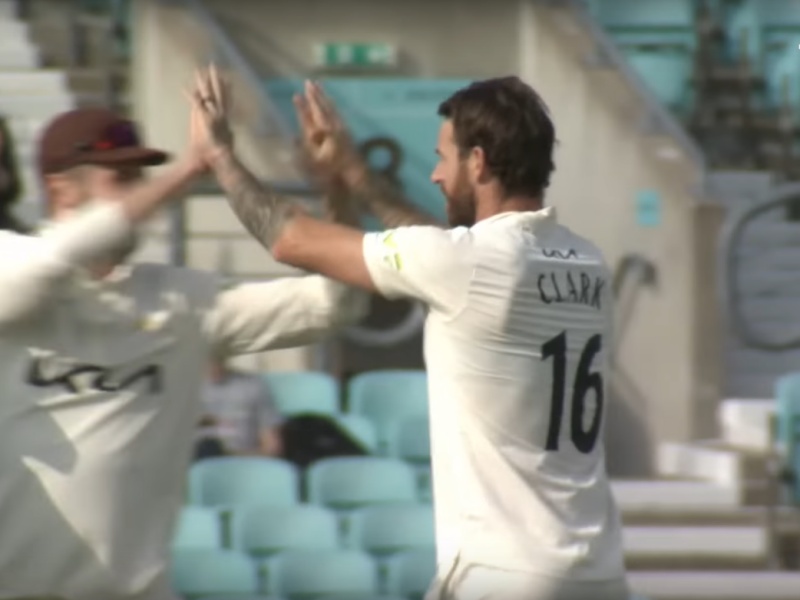 Tom Lawes also took three wickets in that innings and then 5-22 in the second innings. So yet again we found ourself looking at a Surrey scorecard, asking ourself "Who's this guy then?" (A 20-year-old seamer playing his 10th first-class game.)
Whenever you think you're getting to grips with things, Surrey go all Borg and sub in another body. At this point it almost feels like they have a different match-winning bowler allocated for each of their County Championship fixtures. Another 30-something Australian seamer, Sean Abbott, was also playing in this game and he already has 16 wickets this season. Gus Atkinson was the fifth bowler and he has 14 wickets at 14.92 out of the 39 he's taken in his entire career.
Surrey had 15 wicket-takers last season. They're only up to eight so far this season. This thing will go on.
Test cricket is coming. Get ready. Sign up for the King Cricket email.