3
minute read
When most people talk about the standard of umpiring in a cricket match, they tend to mean the quality of the decision-making. But we don't mean that… we don't mean that at all.
Other than when there's a stinker of a decision or a marginal call at a crucial time, officiating is an under discussed aspect of sport.
If you watched the other World Cup, you'll know how much a rugby referee can shape the game, providing players with constant updates on what they can and can't do and calmly breaking up fights between 120kg orc-men by saying, "Okay, let's get back to the game. Thanks."
The referee's power is considerably less in football, where they're more likely to find themselves reversing away from a phalanx of indignant finger wavers or surrounded by a gaggle of players pleading for leniency.
Whether you like those scenes or not, it's still part of the spectacle; part of the pageantry – just as it is when Tour de France race director Christian Prudhomme pops through the sunroof of a Skoda to wave his flag and start each stage.
These little moments are all part of the experience of following a sport.
Cricket umpires aren't quite so central as they once were with technology having eaten away at their purview.
We remember David Lloyd talking about his delight at giving batters out LBW back when he was an umpire and while he was undoubtedly talking up his willingness to give people out for comic effect, it did nevertheless feel fundamentally true.
Back then there were the 'not outers' but also those who were a little more trigger happy, like Ray Julian, who supposedly told Phil Tufnell that he was on at the right end when on 999 first class wickets because Julian himself was only two away from 3,000 LBWs and apparently looking forward to the landmark.
Bloody Hawkeye ruins that kind of fun these days (or arguably delivers a more marginal version far less time-efficiently). This means that great umpire moments are now typically more incidental.
We can think of a couple from the last World Cup.
Firstly, there was Richard Kettleborough's facial expression when calling for a review of MS Dhoni's run out in the semi final, which really captured the emotions of a pivotal moment quite beautifully.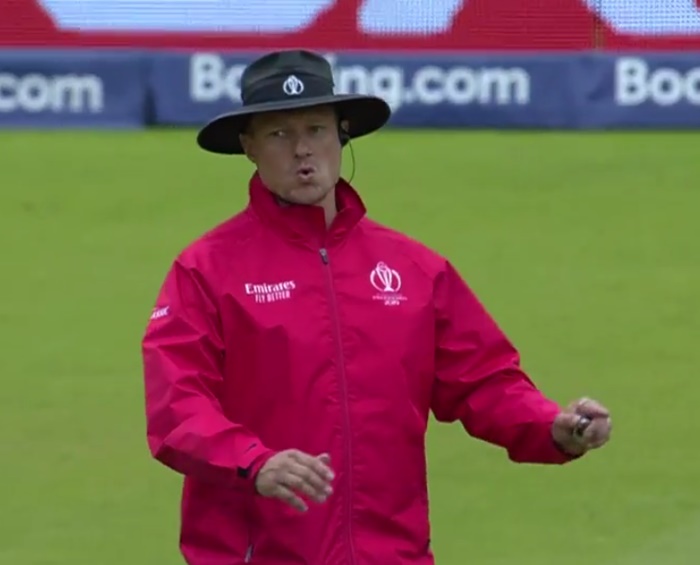 It was nice to see a guy doing his job, but who was clearly also just unavoidably a cricket fan who instantly felt that this was a big and close moment and couldn't hide it.
Secondly, there was Joel Wilson getting clattered by Jason Roy in the group stages. What was great about this one wasn't so much the slapstick of a rare player-umpire collision, so much as Wilson's herculean lack of humour or magnanimity in the immediate aftermath.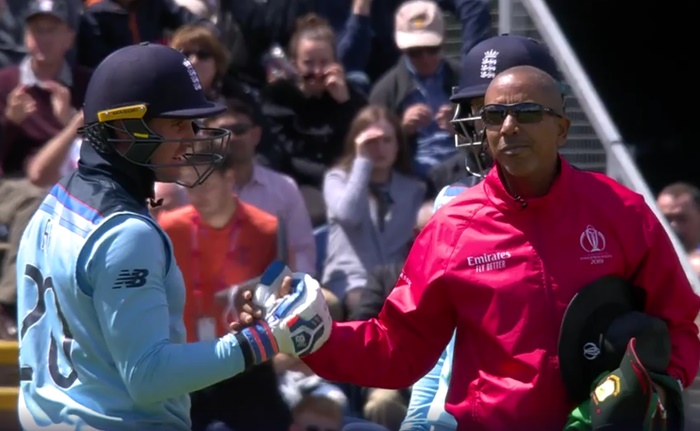 It didn't feel like Wilson and Roy would make up over a Nando's afterwards. It felt like the creation of a petty grudge that Wilson will ultimately take to his grave.
But this World Cup has so far been disappointing. Obviously we haven't watched every minute of every match, but nothing much has caught our eye other than that shot at the top of the page of Adrian Holdstock taking evasive manoeuvres when Daryl Mitchell drilled one straight at his windpipe.
Here's hoping the tension of knock-out matches helps the match officials raise their game. Failing that, a few brutally cruel and incorrect LBWs with no reviews remaining would be a nice tribute to some of the more colourful umpiring of yore.