3
minute read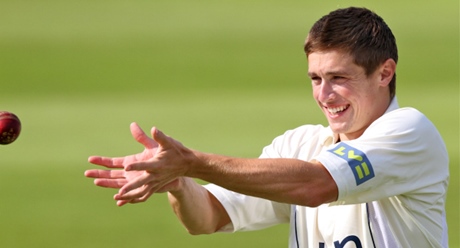 How long does it normally take James Anderson to make 28 runs? The answer is four years.
Don't scrutinise that.
Today, Jimmy made 28 off 19 balls. If you didn't see the match, that should tell you something. Run scoring was not difficult. We'd go so far as to say that New Zealand's 359 was chaseable.
That target was bigger than it should have been because England's fielding was mediocre and there were more than the permissible number of wide long hops, but it was a ridiculously quick outfield and inflation ensued.
Why is Chris Woakes in the title?
We're getting to that. Today, Chris Woakes bowled okay. Jade Dernbach was the most expensive bowler and considering he's supposed to be the one with all the special skills for this kind of pitch, you do start to wonder why he's there. But Woakes is also an issue. We're not quite sure we see where he fits in.
Woakes is a good bowler and it's worth pointing out that he has bowled well for England, taking 6-45 against Australia in his second match, but he doesn't seem to be particularly dynamic. That six wicket haul mutters 'statistical aberration' in a soft but audible voice. He basically bowls solid medium-pace, which in international terms is neither here nor there.
The all-rounder
Woakes can bat as well. He can bat very well. Having come to prominence as a bowler, it's actually arguable whether that's still his strongest suit. However, is he one of England's best one-day batsmen?
No, he isn't. He's a nice, orthodox batsman, but that isn't what you want when the fifth wicket falls in a one-day match. You want brutality and irregularity. If England really feel they want him as an all-rounder, it actually makes more sense to bat him up the order and then pick a specialist heave merchant lower down.
That isn't going to happen, because he isn't actually good enough to be one of the main batsmen. Nor does he appear to be good enough to be one of the main bowlers. He appears to make the side because he provides 'balance'.
What was with the first few sentences of this article?
Simmer down. We're about to weave these two strands into one not-entirely-satisfactory whole.
What does balance achieve? Does balance win one-day cricket matches? We put it to you that one of the main effects of balance is that some top order batsmen become a little too carefree, safe in the knowledge there is 'plenty of batting to come'.
Today was a case in point. With an outfield as quick as this one, Ian Bell should have made an 80-ball hundred. There was no need to play big shots. If he played normally, his ones would have become threes and his twos would have become fours. Conditions were made for him. England would have progressed steadily and then Eoin Morgan and Jos Buttler could have come in with a few overs to go and started ramping, scooping, glancing and walloping.
Instead, Bell danced down the pitch and skied one and then Joe Root did much the same. Doubtless neither of them were thinking that they could play irresponsibly because there were still loads more batsmen to come, but it may also be true that they would have played a little more conservatively if England had picked five number 11s.
Can you summarise this?
Chris Woakes doesn't offer penetrative bowling and he doesn't offer good lower order batting. Also, his presence alongside other competent batsmen such as Tim Bresnan and Graeme Swann might mean some top order batsmen don't put as big a price on their wickets as they should.
Then again, in an ideal world experienced batsmen would be able to properly weigh up a situation themselves.