2
minute read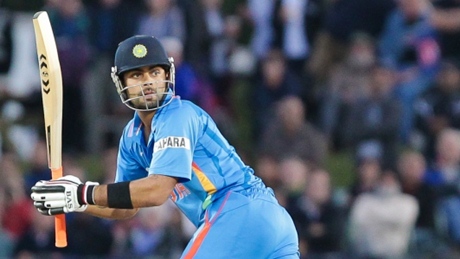 Perspective is rarely so absent as in the immediate aftermath of a successful Indian run chase. Even so, the plaudits for Virat Kohli's unbeaten 82 off 51 against Australia were… let's go with 'fulsome'.
Fox Sports called him an 'absolute freak' because a freak's a good thing these days.  Sourav Ganguly said the batsman was the 'greatest chaser by far'.
Alex Hales described the innings as 'different level,' while Michael Vaughan was one of many to call him a genius – although being Michael Vaughan he did it with a hashtag.
On Twitter, the general public had some sort of 'All-Time Most Hyperbolic Hyperbole In History… EVER' competition – although most people just went with 'too good' because most people are crap at hyperbole and instead just repeat things they've heard other people say.
Interestingly, Shah Rukh Khan called him 'a very well-mannered kid' which basically sounds like a diss when set against everything else. Amitabh Bachchan did better. He said Kohli had been 'brilliance times infinity'.
Cricinfo tapped into the general mood with an article entitled 'Emotional' Kohli rates Mohali knock his best, based on a quote from the post-match presentation when he evalutated his innings thus: "It certainly has to be in the top three. Probably the top right now, because I'm a bit emotional."
Odd that it should be Kohli himself who should identify that lack of perspective.
Kohli is an extremely effective T20 batsman. Websites that can be bothered will give you the stats should you require them. However, he's not as good as all of the above gushing might imply, for the simple reason that no-one is and no-one ever has been.
Your response to it may therefore be to roll your rheumy, jaundiced old eyes and yearn to see Virat taken down a peg or two. But that's probably not fair. Whisper it, but Virat Kohli's basically all right.
The rage!
As we've mentioned before, no-one on earth is as enraged by their own sporting success as Kohli. It's as if he concluded that human emotions were an on-field distraction and after paring them all back found he still needed to retain one to function with rage being all that remained.
Opposition batsman acting up: anger. Opposition batsman behaving himself: anger. Guilty of throwing away his wicket via a stupid shot: anger. Reached a magnificent hundred in what promises to be a match-winning innings: anger.
But that's on the field. It's but a part of the man. Off it, he's capable of dignity, thoughtfulness and humility (albeit the last of those to the point of arse-kissiness). He can even smile.
Virat Kohli's not your best mate and you probably won't ever go to the pub with him, but he's not actually a complete dick and he doesn't ask for people to talk about him in such a way that you want to lamp him one.
So stop fantasising about lamping him one. Instead fantasise about a world in which everyone's a bit less frenzied about paying tribute after every half-decent performance.