2
minute read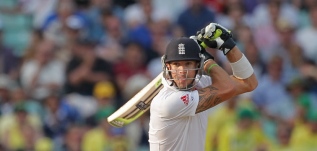 The term 'flat track bully' isn't so popular these days. It's because it's no longer indicative of a weakness.
A batsman who makes the most of flat pitches, bullying bowlers into submission, is basically what you want in Test cricket where 19 pitches out of 20 are basically pretty lifeless for the first half of the match (and often beyond that). Far better to have someone who is guaranteed to cash in when the going's good than a player who can negotiate the moving ball who's prone to lapses in concentration.
Before the series, we predicted that the batsmen England were most worried about, Cook and Pietersen, would actually be more influential than others. You wouldn't fancy either of them when the ball's swinging, but when it's not, well, they're right up there. Don't be fooled by Cook's more sedentary scoring – these two batsmen are creatures of their time.
When the Aussies bowl at Cook, there might as well be an asteroid parked in front of the stumps for all that he looks like getting out at the minute. Pietersen's different. He swings across the line and plays the ball in the air, but if the bounce is true, he can just trust his eye and get on with it.
Australia's era of dominance roughly coincided with a modern age of flat Aussie-style pitches worldwide. We're not by any means suggesting that this was the reason for their success, but it's worthy of debate whether that contributed at all.