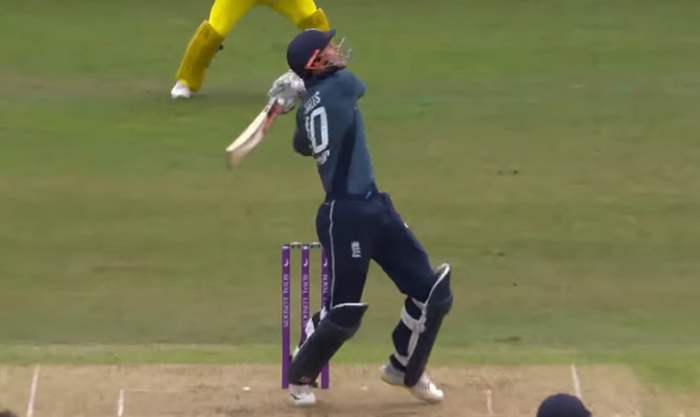 On June 19, 2018, England took the Australia bowling attack apart as if it were a giant Lego penis and grandma was coming over. The dismantling was rapid, efficient and utterly comprehensive.
They made 481-6, the highest total in the history of one-day internationals.
We strongly disagree with the idea that people want to see more boundaries, but there's no harm in having the odd one or two of these front leg clearing festivals from time to time – and if they're held against Australia, so much the better.
Honestly, if you're tired of Australians being on the receiving end of world record totals, you're tired of life.
Meaningless?
There's a temptation to almost write off these sorts of totals because they're so ridiculous, but no matter how flat the pitch and no matter how short the boundaries, this sort of innings requires huge ambition and consistent execution. The Australians gave a sense of how difficult it is to pull off when they batted.
In contrast, England are good at this, in no small part because England are built for this. They've been conditioned to start hitting early and to keep on hitting throughout an innings. It is a very specific skill and they are probably as good at it as any one-day side has ever been.
This is in no small part because they tend to field nine, ten or even 11 capable batsmen – a ridiculous number which greatly reduces the consequences of any individual batsman losing his wicket.
They play accordingly. Even if that lower order isn't ultimately called upon, its presence is liberating. The short tail effectively supercharges the top order.
A flat pitch bowling attack
England also have a bowling attack that is honed for high-scoring matches. This is a thankless and undervalued art and we want to quickly pay tribute to it because it is something that is almost wholly overlooked.
Some days you restrict the opposition to 350 and that is a very good effort – a fact that is currently acknowledged somewhere around zero per cent of the time. (When the batsmen saunter past such a target, everyone gushes about what they've done.)
England's bowlers are at their best when the ball is flying to all parts. It's counter-intuitive, because all people see are the boundaries, but the bowlers are very, very good at shrugging off the blows while unleashing occasional rapid stiletto stabs.
Bowlers should only be judged against what could have been scored on any given day. If every other side in the world would concede eight an over and you concede seven an over, that is literally match-winning.
Adaptability
A lot of people think that one-day cricket is all about flat pitch mega-totals these days because the only time they pay attention is when there's a flat pitch mega total. However, two matches before England's record total, the winnings score was 218-7.
The big concern for England is supposed to be whether their batsmen will be able to adapt on days when runs are likely to be less plentiful, but we'd argue the bowling is a bigger concern.
England's one-day bowling strategy is all about variety. In recent times they have generally fielded a left-arm swing bowler, a right-arm new ball bowler, a leg-spinner, an off-spinner and a bang-it-in pace bowler. (They have no left-arm swing bowler for the World Cup.)
Variety is ideal when you want to ask the batsmen lots of different questions. It's less good when conditions favour one particular type of bowling. When that happens in a 50-over game, all you really want to do is ask the exact same question as many times as possible, and that's much harder to do when you have your eggs in so many different baskets.
If England have a weakness, this is it. This is where they will be beaten.