4
minute read
There was a time when Liam Plunkett was spoken about in much the same way as Sajid Mahmood. Then there was another time when Liam Plunkett was spoken about in much the same way as Sajid Mahmood. It seems safe to assume that it won't happen a third time – other than in this article.
This article looks back on the first two occasions when Liam Plunkett was spoken about in much the same way as Sajid Mahmood.
First, a reminder
This is Sajid Mahmood.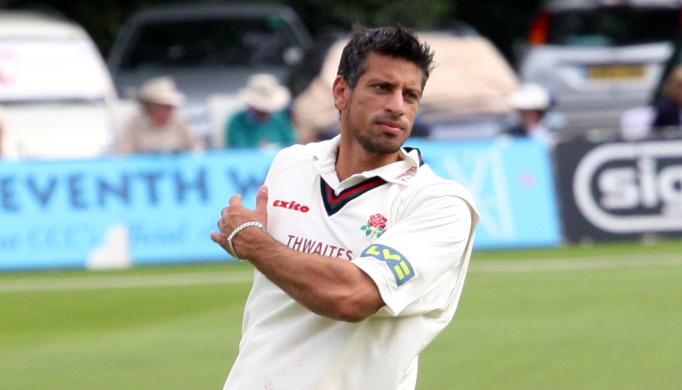 To many of you, Sajid Mahmood's face will be a very familiar face, but it occurs to us that some of you may never have even seen him.
Saj hasn't played international cricket since 2009, which is one thing – but he hasn't even played first-class cricket since 2014.
Four years is quite a difficult time gap to appreciate. Four years ago feels roughly the same as the present day, but at the same time it also seems poised to stroll through to an era where you can legitimately reminisce.
Four years ago, the most recent Star Wars film was shit. Four years ago, you hadn't heard Uptown Funk even once.
Point is, Saj's cricket career isn't currently at its zenith.
The first time people spoke about Liam Plunkett in much the same way as Sajid Mahmood
In 2004, England picked Sajid Mahmood for their one-day international (ODI) side. In 2005, they picked Liam Plunkett for the Test team and then almost immediately for ODIs as well. Early in 2006, Sajid Mahmood made his Test debut.
These were exciting times and these were exciting bowlers. They bowled quickly and they were both in their early 20s. As it became increasingly apparent that Andrew Flintoff, Steve Harmison and Simon Jones maybe weren't the kinds of bowlers who would venture far into their thirties, Liam and Saj were (briefly) viewed as The Future.
The second time people spoke about Liam Plunkett in much the same way as Sajid Mahmood
By the end of 2007, Liam Plunkett had 23 Test wickets at 39.82 and Sajid Mahmood had 20 wickets at 38.10. Both were run-conceding machines. Plunkett was going at 3.57 runs an over and Mahmood was going at 4.04.
They played two Tests together and while the second one went quite well, both their reputations were bound to the Idol of Many Hands and thrown off the dock into the sea by the first one. It was the one where Sri Lanka made 537-9 following on and Andrew Flintoff tried to bowl himself into a debilitating bout of rigor mortis.
Their one-day records at this point also encouraged the notion that the two of them were basically the same shit player. Plunkett had taken 37 ODI wickets at 34.05 with an economy rate of 5.85. Mahmood had 29 at 38.89 and was conceding runs at the exact same rate.
That rate seems unspectacular nowadays, but let us tell you this was still a time when commentators would spend 10 overs talking portentously about the moment when the required run-rate would finally exceed a run a ball.
Whenever anyone said something about Liam Plunkett or Sajid Mahmood in 2007, they said it in a sort of groaning sigh and what they said, every single time, was: "Why do they keep picking him?"
Act II
In The Secret of Monkey Island, the character you play, Guybrush Threepwood, can hold his breath for ten minutes. When he is thrown off the dock tethered to the weighty-looking fabulous idol, you have these ten minutes to escape.
All Sajid Mahmood managed to do was slowly turn green, but Liam Plunkett at some point hit upon the solution. The solution is that you pick up the idol, pocket it, and climb out of the sea. (This analogy doesn't actually extend to the solution – we only mention it because the solution is a very wonderful and funny thing.)
Plunkett is the elder statesman of England's one-day bowling attack these days and he has become the quick bowler they absolutely rely upon for wickets when the opposing batsmen start to take flight.
Plunkett bangs in the short one; he bobbles in the short one; and he sometimes spears it or bobbles it at the stumps. He bowls all of these things reliably and he cycles through them until one works – and generally one does.
Where things stand today
Liam Plunkett now has over a hundred ODI wickets at under 30. And let us tell you about his economy rate, because this is so marvellous and we are so happy with these numbers.
We took the end of 2007 as being the end of Act I of Liam Plunkett's career because while he played the odd international after that point, they were very occasional and he'd definitely fallen into the "only if we've suffered plenty of injuries" category.
As we said before, at the end of 2007, Liam Plunkett's ODI economy rate was an eye-watering 5.85. As the world has reshaped itself around him, his economy rate has dropped from to a more-than-handy 5.84. (Isn't that great?)
So, okay, not all of the numbers properly tell the story of how Plunkett has gone from "why do they keep picking him?" to World Cup linchpin. You can comprehend it better by looking back on matches like the one on Saturday when he beasted four wickets and secured an England win.
(Quick late digression: One of the umpires for that match was Alex Wharf, who was England's very next ODI debutant after Sajid Mahmood. Alex Wharf's debut went well. He was man of the match.)
While he might be knocking on a little, Liam Plunkett's cricket career is pretty much at its peak.
In contrast, Sajid Mahmood was last seen literally pretending to be a bowler in a TV advert for a betting company.