South Africa
13
There isn't one part of this advert that isn't amazing. It is the world's first 100% amazing advert.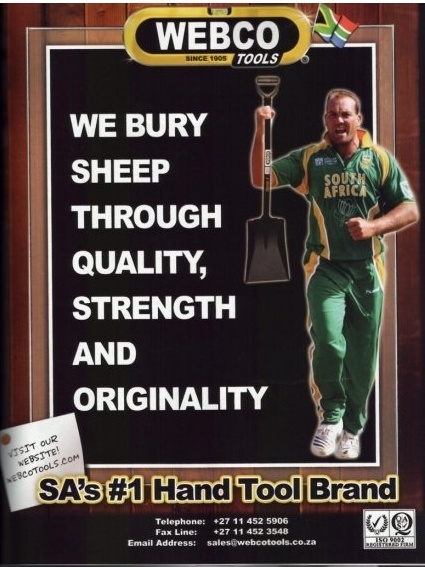 The slogan's baffling and surreal and amazing. The picture's less baffling, but still surreal and amazing. Even the boast 'SA's #1 Hand Tool Brand' is amazing, because just how hotly contested is that title?
Ceci sent this majestic thing in.
She writes:
"This is an advert from a South African cricket mag.  It's entirely un-photoshopped and is utterly mysterious. Why is Kallis looking so keen and eager?  Is sheep burying his hobby, or is it – like Steyn's crocodile wrestling – the mark of a Saffer man; the number of sheep he can bury in an hour?"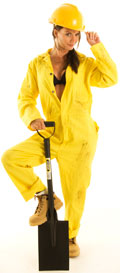 Webco Tools' website doesn't quite live up to this promise, but it's still pretty amazing. They know their target market, as proven by their use of images such as the one on the right.
Bet you'd like to bury sheep with her, eh?
Eh? Eh?
Oh.
13 Appeals
13
We're never a fan of international cricketers retiring to seek their fortune in the county game. It seems so backwards. We're especially displeased when it's a cricketer like Andre Nel who's been so important in our life.
Andre Nel taught us that, in life, it doesn't matter how bumbling and unathletic your run-up is. As long as you brain your boyhood heroes with bouncers and burst into tears immediately afterwards, that's all that matters.
He taught us that it doesn't matter if you have a demented alter ego called Gunther who lives in the mountains who doesn't get enough oxygen to the brain. As long as you attract strange comments that seem to refer to your manhood, you'll go a long way.
He taught us that it doesn't matter what onlookers say to you, as long as you use crude and abusive language right back at them, you can get banned from domestic cricket for a period of time.
And at the end of the day, isn't that what life's about? Being ineligible for selection for the remaining two matches of the season?
13 Appeals
11
You all thought that AB de Villiers was ace at everything. He isn't.
Roscoe drew our attention to Show Them Who You Are, a single on which AB sings and plays guitar. You can download it via the homepage of his website. Roscoe rather generously gave it 1/10.
Apparently someone phoned up a South African radio station to tell them that the single made them feel proud to be South African. We asked Roscoe if the song made him proud to be South African.
"Nah, the song is pretty lame. It's like a poor version of Bon Jovi, only with weird, South African/Australian pronunciation of words. I feel the opposite of proud. I feel ashamed that someone let him get away with lyrics that sound like they were written by Oprah. Maybe the producers were too busy guffawing into their hands to object. Either that or he signed autographs to make them stop laughing."
He goes on to say that he's a little bitter that AB's band will get more airplay than his, so maybe you could listen to some of Roscoe's music to balance things out a bit.
"I love cricket and I continue to play it at club level. I'm a left arm medium-fast bowler and I come in at number six with a few big shots. I'm also a musician and I continue to play rock music at (night)club level. I'm a right hand lead guitar/singer and I come in at about 11pm to down a few big shots of Jack Daniels."
Roscoe did try to get an interview with the guy who co-wrote the song with AB, but said it was for King Cricket so never really got an answer. That's the power of this website right there, people.
11 Appeals
19
Graeme Smith's things are hitting the bulk of the runs in a fourth innings chase and winning Test series.
There were no miracles from Australia's bowlers, because the bowlers who could perform them are gone. South Africa chased down 183 for the loss of one wicket, won the match, won the series and perhaps even won the right to be considered the best side in the world.
Graeme Smith is a hard man. Our hero, Neil Manthorp, describes a captain who takes fitness tests when injured and if he fails, tears up the results and plays anyway. Smith seems to play the majority of his cricket with a broken finger or rib. His team are made in his image.
They play to win and they do what's necessary. They've got stroke players like AB de Villiers and fast bowlers like Dale Steyn and Morne Morkel. They've also got Paul Harris who everyone says is shite, but who doesn't give a toss and just gets on with the business of going for hardly any runs and letting the fast bowlers storm in.
They've also got Neil McKenzie, whose batting is so hypnotically unspectacular, it doesn't just sedate the crowd, it impairs their motor skills as well. Graeme Smith wants these players in his side because he wants his side to win and he doesn't much care how that happens.
The proof is in the texture and succulence of the biltong.
19 Appeals
4
Neil McKenzie did something. Tony Greig called him brave, Mark Nicholas branded him stupid. We'd like to add 'mental' to the equation as well.
Of course, Neil McKenzie is known to be a bit mental, but this was a different kind of mental. He took up a fielding position maybe two yards from the bat, almost directly in front, wearing no protection whatsoever.
Entirely predictably, Ricky Ponting drove the next ball straight into him. It was hard to gauge whether Ponting had middled it or not in the yard and a half that the ball travelled, but he definitely didn't hold back. It was a full backlift, full follow-through kind of a drive.
In slow motion replays you can see McKenzie's arm flesh doing a macabre disco dance at the point of impact. He grimaced as the shot was being played, but ensured he didn't really make much of a fuss afterwards. You know why? It's because he's hard.
This kind of thing irritates us. We all know that it hurt like hell. We've all got nerves. We know how they work. Being hit by a hard driven cricket ball causes pain and pain hurts – that's very much its defining feature.
McKenzie moved out of that fielding position immediately afterwards, so perhaps he's not as brave, stupid or mental as he'd have us believe.
4 Appeals
8
JP Duminy's Test record is improving: one in his first innings, 50 not out in his second and 166 in his third.
The 166 kicks in the balls that he gave Australia's bowlers were particularly useful as they helped produce 275 ball kicks for South Africa's last three wickets. Those are some heavily kicked balls in that Aussie bowling attack.
It strikes us that South Africa are turning into the kind of side who you can never quite get on top of. You think you're on top of them, then you look away for a moment and suddenly they're standing above you calmly hefting a huge club with a nail in it while giving you a raised eyebrow look that says 'our turn now'.
We're also struck by the fact that Australia's bowling attack only ever seems to have the feeblest, soapiest grip on the opposition these days.
8 Appeals
7
South Africa could never have chased down 414 without a hundred from Graeme Smith. After he was out for 108, they couldn't have won without a hundred from AB de Villiers.
What's really impressed us about this South African win is not that they chased down such a huge total on the final day, or that they did it against what is nominally the best side in the world. (Interesting appearance of the word 'nominally' there, eh?).
What's most impressive is that they managed to fight back so comprehensively after Mitchell Johnson's spell of five wickets for five runs earlier in the match. A team should be pretty damn dispirited after that happens to them. To overcome it betrays a genuine confidence that is quite, quite sickening. It also makes Ricky Ponting's traditional pre-match words about South African mental scars seem a bit meaningless.
It's being said everywhere, but if Glenn McGrath and Shane Warne had been playing, South Africa never would have made it. We'll go one further and say that if they had been playing, South Africa wouldn't have won, even if the wisened greats had bowled a load of toss. Sometimes you earn wickets through more than just your performance on the day and that's a quality that's extremely hard to replace.
AB de Villiers is in the process of building a reputation that he's hard to bowl at. He also has another reputation, it seems. It might have been removed by now, but at the time of writing, his Wikipedia page featured the following sentence:
"De Villiers enjoys late nights while on tour with some of the local talent."
There's no preamble to that. It's just one of a series of urelated 'facts' about his personal life, in between some quotes about Jesus and the name of his high school.
7 Appeals
4
Perhaps the most striking thing about Mitchell Johnson is his ridiculous cartoon character tufty hair. After that it's his bowling.
We watched quite a bit of Johnson when Australia toured India. He was their best bowler. For all the talk about Brett Lee being the fast strike bowler, Johnson's not really any slower than him. He's left-handed, he swings the ball and he doesn't just pitch it a foot outside the off stump all the time like he used to. He does it quite a lot, but not all the time.
He's got quite a round-arm action as well and if he masters reverse swing, we could be seeing some left-arm, dipping, inswinging yorkers, like a mirror-Waqar.
Mostly though, we're struck by his pace. He's consistently fast, 90mph plus, yet no-one seems to consider him a fast bowler. He clearly is.
Mitchell Johnson arrived as a Test bowler today, taking 7-42 against South Africa. It's the kind of performance that'll convince him he can get anyone out.
4 Appeals
6
People still slag Anil Kumble off for bowling too fast and not turning the ball. It's not really the point. 619 Test wickets say that he's right and they're wrong.
Kumble never spun the ball much – it's not a recent thing – yet he's been the best spin bowler in India for about 18 years. Being the best spinner in India isn't like being the best spinner in England. There's competition.
Maybe the problem is that people rate him as a leg-spinner, when really they should be rating him as a bowler. Kumble's method has more in common with Glenn McGrath than Shane Warne. Make the batsman play. Move the ball a touch. Do it again. And again.
He was never a leg-spinner anyway. He was a googly bowler – particularly in his early days. They make that kind of distinction in India and it says a lot about the way the nation regards spin bowling. In England there are two kinds of spinners – off-spinners and leg-spinners. In India they recognise that there are many ways to bowl spin and any of them can be successful.
If every bowler bowled fast-medium, the game would be dull. If every spin bowler were the same, the game would be dull. How many tall, bouncy, medium-pace googly bowlers have there been? Anil Kumble was a pretty intriguing bowler. For most of his career, he had a quite marvellous moustache as well and isn't that really what it's all about? Facial hair?
A post about when Anil Kumble hit his Test hundred that also mentions the ten wickets in an innings thing that we didn't manage to squeeze into this update.
6 Appeals
7
6-1 off three overs? That's a win.
We need to be more decisive about things like this. We can't just say that there was 'no result' because there wasn't much cricket. That's just laziness. There was plenty of cricket.
Three overs is plenty and what we saw was clearly an England win. Steve Harmison put in an awesome performance walking in, whereas Mark Boucher was dire sitting in the dressing room.
There was, quite simply, a huge gulf in class between the two sides.
7 Appeals