South Africa
4
We only ask because if they get good at it and develop a taste for it, they're touring England in the summer. England's batting line-up is currently supporting the entire sports psychology higher education programme in this country.
South African coach, Mickey Arthur, says that Steyn, Ntini and Morkel are going to persist in trying to keep India's batsmen out of their comfort zones.
India have traditionally used a comfort zone to relax their players prior to every Test match. It's a certain section of their hotel where the carpets have all been replaced by duvets and the players are offered a selection of velour tracksuits or pyjamas.
Steyn, Ntini and Morkel have hit upon a number of tactics to keep the Indian batsmen out of this haven. Morne Morkel has managed to get hold of a few rolls of police tape, which he's going to put across the door as if there's been some sort of crime within.
Makhaya Ntini is going to try and lure the Indians elsewhere by phoning them pretending to be their agents. He's going to tell them that there's a special IPL 'double your money' competition for all the players involved and all they have to do is be the first to complete a treasure hunt that he himself has put in place.
Finally and most deviously, Dale Steyn has managed to get a job on the front desk of India's team hotel. Whenever anyone asks him the whereabouts of the comfort zone, he's instead going to direct them towards the 'misery zone' where everyone has to queue up to watch various mobile phone adverts, before a dedicated professional has some one-to-one time explaining what each product says about its owner.
4 Appeals
6
Vehement letter C denier, A B de Villiers, is currently 217 not out, which knocks India's 76 all out into a cocked hat.
A B de Villiers is young and richly talented. Let's invite him round for tea but then pretend that we all thought he was a vegan. Then, when he asks why he's eating different food from everyone else, we'll say, "oh, sorry. We thought you were a vegan," and instead of sharing the rest of the food, we'll just let him carry on eating the vegan stuff.
Then afterwards, we'll all play hide and seek in the garden, only everyone will hide inside when A B de Villiers is seeking and we'll lock the door and he won't be able to get in. Then we'll pretend that we've lost the key and can't open the door and then maybe it'll start raining.
That'll teach him.
6 Appeals
12
All out for 76 in the morning session of day one. Eye-catchingly disgraceful.
At just 120 deliveries, this was also the 12th shortest innings in terms of balls faced for any side in Test history. In recent times, only England's 46 all out against the Windies at Port of Spain in 1994 (115 balls) and the West Indies' own 51 all out against Australia at the same venue in 1999 (118 balls) have been shorter.
This is more like it though. We support India over South Africa, but we support bowlers over batsmen and this was payback for the poor bastards who'd had to put up with the well-ironed bowling green of the first Test.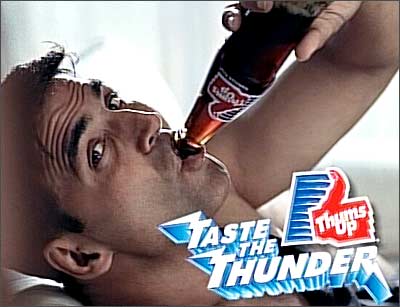 Dale Steyn, Makhaya Ntini and Morne Morkel must have been yelping like demented puppies who'd been treated to six bottles of Thums Up when they saw a hint of green on the wicket this morning.
Somehow controlling their excitement, they succeeded in putting the ball in 'the right areas'. More specifically, they put it in the area called 'the stumps' as Virender Sehwag, Rahul Dravid, VVS Laxman, Sourav Ganguly and Anil Kumble were all clean bowled.
Take that, batsmen. That's for having it your own way pretty much all the bloody time.
Of course there'll probably be some sort of investigation as to the standard of the pitch if it continues like this. It's not these pitches you need to worry about. It's the ones that produce scores of 540, 627 and 331-5. They're the ones that are ruining cricket.
Update: Suave has captured Ganguly's stout resistance nicely.
12 Appeals
10
Rahul Dravid hit his 10,000th Test run today en route to his 25th Test hundred. It's a little bit overshadowed by Sehwag's triple hundred, but that's pretty much the way it goes for Dravid.
Dravid was very much the support act for Sehwag yesterday, hitting 68 in a partnership worth 268. Stunning innings like Sehwag's can't happen without a batting partner though and it's no coincidence that The Wall was protecting the other set of stumps during VVS Laxman's sublime 281 against Australia as well. In between all the forward defensives he found time to tot up 180, which is some second fiddle – a second fiddle encrusted with rubies, played by a perfectionist, perhaps.
Today's 111 saw Dravid's average edge above that of the man who's overshadowed him most throughout his career. Rahul Dravid averages 55.41 in Test cricket. Sachin Tendulkar now averages 55.31 after registering a duck. With Sehwag only adding 10 to his overnight total, perhaps he and Tendulkar were merely being gracious enough to give Dravid a day of his own.
We move that Dravid's day becomes a national – no – international holiday, so that he'll get the respect he deserves for all eternity. There's nothing like a day off to heighten your appreciation of someone.
10 Appeals
11
Virender Sehwag has now hit the fastest Test triple hundred. He was always likely to achieve it, which is perhaps the biggest compliment of all. A freak innings like Nathan Astle's is one thing, but Sehwag does this kind of thing consistently. At the close of play Virender Sehwag was 309 not out and he'd scored those runs off just 292 balls, hitting 41 fours and five sixes.
Sehwag's hit 309 before, against Pakistan. It took him 375 balls. That shouldn't be bettered, but it just was. Sehwag can also boast the second and seventh fastest Test double hundreds of all time (assuming this one still counts as the third fastest now that he's gone past 300).
As we said earlier, no batsman other than Virender Sehwag can sustain this speed of scoring for such long periods. He has a unique ability to strike good balls for boundaries without offering chances. Can anyone else play such outrageous shots without seeming in any danger?
He's only the third batsman to score two triple hundreds after Don Bradman and Brian Lara. Has he got any adrenaline left for tomorrow? Lara's 400 will surely come under threat if he has. Ordinarily 91 runs is a long way, but Sehwag has so comprehensively shredded this South African team they're liable to go foetal when they see him return to the crease. He's made Rahul Dravid look like a tail-ender.
Virender Sehwag must surely be regarded as one of the greats now. Yes?
11 Appeals
4
That's not a particularly arresting statistic on first glance, but think about it. When Virender Sehwag passes 100 he almost always hits in excess of 150. That's something.
A running theme of this site of late has been the importance of imposing yourself on the opposition. We alluded to it in our retirement posts about Marcus Trescothick and Adam Gilchrist. Virender Sehwag is a batsman who really can affect the way his opponents think and act. He can change a game beyond his own contribution.
Scoring a common-or-garden hundred is worthy. It's not something to be sniffed at, but a hundred rarely decides a match in its own right. Bowlers decide matches really. However, if you can score 150 plus, 200 plus or 300 plus, you can win with a significantly poorer set of bowlers.
The great thing about Virender Sehwag is that he scores huge numbers of runs at a ridiculous speed. Concede 540 as India did in this match and you should really be hoping for a draw at best. Not with Sehwag at the crease. He's probably the only batsman in the world who can score at a run a ball for such an extended period of time that you can overhaul a score like that and set a target with time left in the game.
Dropping Virender Sehwag was mental. You don't average 50 after 50-odd Tests without being a decidedly gifted batsman.
Virender Sehwag hits the fastest Test 300 of all time against South Africa
4 Appeals
7
The verb 'to beard' means to carry out any action whatsoever whilst sporting a smashing beard.
India have been on a bit of a high after winning the interminable CB Series in Australia. They're returning to earth at great speed now, after South Africa scored 540 in the first Test. Perhaps in light of India's newfound fast-bowling strength, they should prepare green pitches and foresake their traditional low, slow turners.
That would be sad though. We're against the homogenisation of pitches. A tour to a far-off land should be as different as different can be. Diversity is what makes cricket so intriguing.
Hashim Amla bearded a great many of South Africa's runs. He was run out for 159 having bearded 20 fours.
He'll be bearding well tonight.
7 Appeals
4
Malinda Warnapura was out first ball on his debut against Bangladesh, but he's avoided following in Marvan Atapattu's footsteps since then.
Atapattu benefitted from a good deal of generosity from the Sri Lankan selectors at the start of his career. His first few innings read as follows: 0, 0, 0, 1, 0 and 0. Even then he hardly set the world alight, continuing with: 25, 22, 0, 25, 14, 4, 7, 10, 26, 19 and 29, before finally breaking 30 in an innings of 108 against India in his 18th Test knock.
Malinda Warnapura shrugged off his ignominious debut to hit 82 in his second Test, thus avoiding the nickname 'Atapatthree' that we've just thought of and will have to file away until someone actually does make a dreadful start to their Test batting career. This week, against the West Indies, Warnapura continued with the run-scoring, hitting 120 and 62.
He seems like he's all right against pace and he can't be too bad against spin being as he scored successive hundreds when Sri Lanka A participated in the Duleep trophy – in much the same way as the England Lions batsmen didn't, earlier this year. He managed to slip in 243 against Bangladesh A as well, not long after. Add to that a few years playing for Mirfield in the Central Yorkshire Cricket League and you've got quite a rounded batsman – and not in a Jesse Ryder way.
Sri Lanka won the Test. Chaminda Vaas took five wickets. Good (increasingly) old Chaminda Vaas.
4 Appeals
9
We expected England to lose. They're an insipid outfit at the minute. We didn't expect them to get thrashed though.
And they were thrashed. Getting bowled out for 110 is never too smart, but on this pitch it was jaw-dropping. Don't let New Zealand's 177-9 fool you. Runs were the only commodity they were interested in then. They didn't care how many wickets were falling.
Kyle Mills took 4-7 with the new ball. Mills is a decent bowler – he'd have to be to take out an entire international top order for diddly – but is he THAT good? This was his tenth Test and while he now averages 25.58 with the ball, no fast-medium bowler should get figures like that unless the ball's swinging a mile or the pitch looks like a cobbled street. Neither of those conditions applied here.
This England side reacts. It doesn't act. Bowlers can attack with impunity if batsmen aren't interested in runs, as was the case in both of England's innings. And if your bowlers are content to wait for mistakes, they'll not come – batsmen will just accumulate.
England let this match continually drift away from them from the moment they lost the toss. Sometimes you lose the toss. That's the way it is.
New Zealand are a proper outfit, but they are one of the weaker Test nations. On their recent tour of South Africa, they failed to reach 200 in four Test innings. This was largely thanks to Dale Steyn. There's a bowler who can inflict his will on the opposition.
Steyn's recently been doing much the same in Bangladesh. The wickets didn't suit pace, but he didn't settle for figures that would be good 'in the circumstances'. He sets his own standards. England take note. You need spectacular performances to win Tests and you also need them to give you some breathing room in case of a bad day.
If you're almost always average, it's only the shortest distance to 'below average'.
New Zealand v England, first Test at Hamilton – day five
New Zealand 470 (Ross Taylor 120, Jamie How 92, Daniel Vettori 88, Brendon McCullum 51, Ryan Sidebottom 4-90)
England 348 (Paul Collingwood 66, Michael Vaughan 63, Tim Ambrose 55, Jeetan Patel 3-107)
New Zealand 177-9 declared (Stephen Fleming 66, Ryan Sidebottom 6-49, Monty Panesar 3-33)
England 110 all out (Kyle Mills 4-16, Chris Martin 3-33)
New Zealand won by 189 runs
9 Appeals
8
Opening partnerships are the most boring kinds of batting partnership – especially if it's the first innings. There's no context to the innings and you're removing any doubt about the rest of the game. Let's face it, after 415 runs without a wicket, it's either going to be a South African win or a draw.
We admire it in for its cold remorselessness. We like players who don't let the opposition have a sniff. But as records go, it's not one of our favourites.
Must be a bit of a confidence booster though. Next innings, Smith and McKenzie can look at each other as they go out to bat and they can think to themselves: 'We can bat for bloody ages together.'
Then McKenzie can think: 'Smithy's so strong'. And Smith can think: 'McKenzie's cover-driving's dreamy.' Then the pair of them will just drop their bats, discard their batting helmets and kiss.
Graeme Smith's leg will bend at the knee and come up behind him.
8 Appeals