South Africa
4
Loots Bosman and Graeme Smith today batted in international cricket as if they were playing an overfamiliar cricket computer game on easy setting. Simply aim at cow corner and press the six-hit button.
It was astonishingly clean hitting. Almost robotic. Alastair Cook erred hugely in not positioning a fielder on the grass banks on the other side of the rope.
4 Appeals
11
No, they got beaten by Pakistan, who were ace.
It's good to have the real Pakistan back. At the start of the tournament, we looked at their team and thought: 'Where's the fun? Where's the Pakistani all-or-nothing genius and chaos?'
Turns out it was in there all along.
11 Appeals
15
Tell you what's boring: people picking fantasy teams and then publishing them on their websites. Who cares? The arrogance of these people to think anyone would be remotely interested.
Here's ours.
Chris Gayle – plays forward defensives and sixes with the same facial expression
Tillekeratne Dilshan – reliable, effective and has given us the rather frightening 'Dilscoop' where you basically try and play the ball into your own face
AB De Villiers – he was on this list before the tournament even started
Kevin Pietersen – you expect more, but he scored a good few runs at a fair lick
Yuvraj Singh – turdish exterior can't sully clinical six-hitting ability
Kumar Sangakkara – enduring the stench of 'glove hands' for a week or two
Roelof van der Merwe – we're still not entirely sure how, but no-one can score off this boss-eyed tweaker (Saeed Ajmal a very close second for this spot)
Wayne Parnell – yet another South African fast bowler – great…
Umar Gul – reverse swing it at the stumps, repeat, repeat, repeat…
Lasith Malinga – that arm is getting lower than a Barry White record played at the wrong speed (finger on the cultural and technological pulse, as ever)
Ajantha Mendis – his weirdness sometimes obscures his brilliance
Dwayne Bravo is 12th man. David Lloyd and Anil Kumble commentate.
15 Appeals
7
We don't have a great deal to say about England getting beaten. We've been writing this website for a few years now and it would do us no good at all to dwell on every underwhelming England loss. So we're not going to. Not on a Friday.
What we did strike us while watching the game was the differing tactics each team has been employing during the World Twenty20. While Test cricket and one-day internationals have a sort of template for how to play, teams are approaching Twenty20s in all sorts of different ways.
Bowling tactics
South Africa use their fast bowlers from the off, as they would in the other formats, whereas England often use Dimitri Mascarenhas' medium-pace, almost daring their opponents to have a slog. Other sides have opened with spinners.
Batting tactics
England have gone with one willing slogger (Luke Wright) and one attacking batsman (Ravi Bopara). A lot of the other sides have adopted a similar approach.
South Africa use Kallis and Smith, their two best batsmen in other formats, but not who you'd think of as being Twenty20 batsmen. They then bide their time and stick Albie Morkel in for some sixes late on.
Who's right?
7 Appeals
13
There isn't one part of this advert that isn't amazing. It is the world's first 100% amazing advert.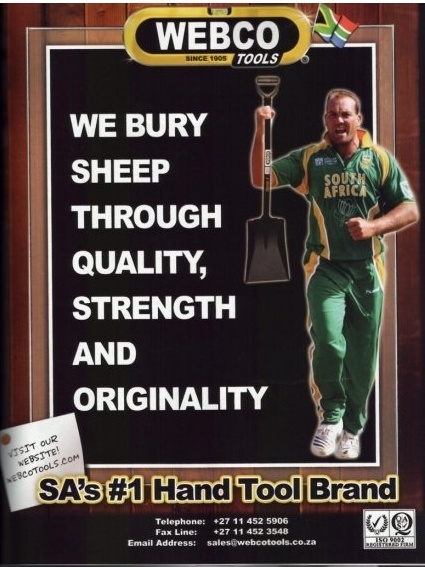 The slogan's baffling and surreal and amazing. The picture's less baffling, but still surreal and amazing. Even the boast 'SA's #1 Hand Tool Brand' is amazing, because just how hotly contested is that title?
Ceci sent this majestic thing in.
She writes:
"This is an advert from a South African cricket mag.  It's entirely un-photoshopped and is utterly mysterious. Why is Kallis looking so keen and eager?  Is sheep burying his hobby, or is it – like Steyn's crocodile wrestling – the mark of a Saffer man; the number of sheep he can bury in an hour?"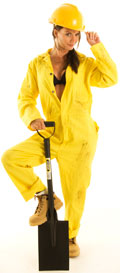 Webco Tools' website doesn't quite live up to this promise, but it's still pretty amazing. They know their target market, as proven by their use of images such as the one on the right.
Bet you'd like to bury sheep with her, eh?
Eh? Eh?
Oh.
13 Appeals
13
We're never a fan of international cricketers retiring to seek their fortune in the county game. It seems so backwards. We're especially displeased when it's a cricketer like Andre Nel who's been so important in our life.
Andre Nel taught us that, in life, it doesn't matter how bumbling and unathletic your run-up is. As long as you brain your boyhood heroes with bouncers and burst into tears immediately afterwards, that's all that matters.
He taught us that it doesn't matter if you have a demented alter ego called Gunther who lives in the mountains who doesn't get enough oxygen to the brain. As long as you attract strange comments that seem to refer to your manhood, you'll go a long way.
He taught us that it doesn't matter what onlookers say to you, as long as you use crude and abusive language right back at them, you can get banned from domestic cricket for a period of time.
And at the end of the day, isn't that what life's about? Being ineligible for selection for the remaining two matches of the season?
13 Appeals
11
You all thought that AB de Villiers was ace at everything. He isn't.
Roscoe drew our attention to Show Them Who You Are, a single on which AB sings and plays guitar. You can download it via the homepage of his website. Roscoe rather generously gave it 1/10.
Apparently someone phoned up a South African radio station to tell them that the single made them feel proud to be South African. We asked Roscoe if the song made him proud to be South African.
"Nah, the song is pretty lame. It's like a poor version of Bon Jovi, only with weird, South African/Australian pronunciation of words. I feel the opposite of proud. I feel ashamed that someone let him get away with lyrics that sound like they were written by Oprah. Maybe the producers were too busy guffawing into their hands to object. Either that or he signed autographs to make them stop laughing."
He goes on to say that he's a little bitter that AB's band will get more airplay than his, so maybe you could listen to some of Roscoe's music to balance things out a bit.
"I love cricket and I continue to play it at club level. I'm a left arm medium-fast bowler and I come in at number six with a few big shots. I'm also a musician and I continue to play rock music at (night)club level. I'm a right hand lead guitar/singer and I come in at about 11pm to down a few big shots of Jack Daniels."
Roscoe did try to get an interview with the guy who co-wrote the song with AB, but said it was for King Cricket so never really got an answer. That's the power of this website right there, people.
11 Appeals
19
Graeme Smith's things are hitting the bulk of the runs in a fourth innings chase and winning Test series.
There were no miracles from Australia's bowlers, because the bowlers who could perform them are gone. South Africa chased down 183 for the loss of one wicket, won the match, won the series and perhaps even won the right to be considered the best side in the world.
Graeme Smith is a hard man. Our hero, Neil Manthorp, describes a captain who takes fitness tests when injured and if he fails, tears up the results and plays anyway. Smith seems to play the majority of his cricket with a broken finger or rib. His team are made in his image.
They play to win and they do what's necessary. They've got stroke players like AB de Villiers and fast bowlers like Dale Steyn and Morne Morkel. They've also got Paul Harris who everyone says is shite, but who doesn't give a toss and just gets on with the business of going for hardly any runs and letting the fast bowlers storm in.
They've also got Neil McKenzie, whose batting is so hypnotically unspectacular, it doesn't just sedate the crowd, it impairs their motor skills as well. Graeme Smith wants these players in his side because he wants his side to win and he doesn't much care how that happens.
The proof is in the texture and succulence of the biltong.
19 Appeals
4
Neil McKenzie did something. Tony Greig called him brave, Mark Nicholas branded him stupid. We'd like to add 'mental' to the equation as well.
Of course, Neil McKenzie is known to be a bit mental, but this was a different kind of mental. He took up a fielding position maybe two yards from the bat, almost directly in front, wearing no protection whatsoever.
Entirely predictably, Ricky Ponting drove the next ball straight into him. It was hard to gauge whether Ponting had middled it or not in the yard and a half that the ball travelled, but he definitely didn't hold back. It was a full backlift, full follow-through kind of a drive.
In slow motion replays you can see McKenzie's arm flesh doing a macabre disco dance at the point of impact. He grimaced as the shot was being played, but ensured he didn't really make much of a fuss afterwards. You know why? It's because he's hard.
This kind of thing irritates us. We all know that it hurt like hell. We've all got nerves. We know how they work. Being hit by a hard driven cricket ball causes pain and pain hurts – that's very much its defining feature.
McKenzie moved out of that fielding position immediately afterwards, so perhaps he's not as brave, stupid or mental as he'd have us believe.
4 Appeals
8
JP Duminy's Test record is improving: one in his first innings, 50 not out in his second and 166 in his third.
The 166 kicks in the balls that he gave Australia's bowlers were particularly useful as they helped produce 275 ball kicks for South Africa's last three wickets. Those are some heavily kicked balls in that Aussie bowling attack.
It strikes us that South Africa are turning into the kind of side who you can never quite get on top of. You think you're on top of them, then you look away for a moment and suddenly they're standing above you calmly hefting a huge club with a nail in it while giving you a raised eyebrow look that says 'our turn now'.
We're also struck by the fact that Australia's bowling attack only ever seems to have the feeblest, soapiest grip on the opposition these days.
8 Appeals