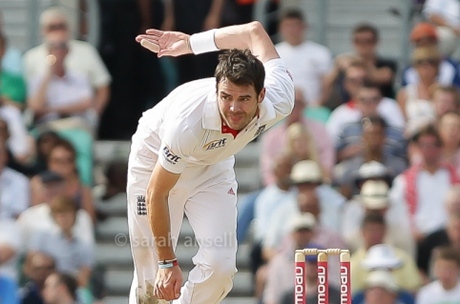 Like most bowlers, James Anderson is frequently up against it. Modern pitches are generally against him, overseas conditions are often against him and the fixture list is always against him. However, like a fat man's old belt, Jimmy hasn't buckled in a long, long time.
Fit for purpose
Most of his pace bowling team-mates have imploded at some point. It might be the pitch, the match situation or the volume of overs – it's usually all of those things. Eventually they break down injured, lose rucks of pace or simply bowl a hatful of dross.
Jimmy very rarely does any of those things. This speaks of great mental resilience and incredible physical fitness. It's hard to measure the former, so he doesn't get the credit he deserves. With regard to the latter, we wonder whether anyone truly comprehends how exceptional he is.
Dale Steyn is the only other fast bowler we can think of who can boast such speed, strength, flexibility and endurance. Add no little amount of skill to the mix and you'd be hard-pressed to find more rounded athletes in any other sport. Yet for all the good days, these pair are frequently perceived as nobbut dray horses.
Jimmy generally bowls well
Sometimes that gets him wickets. Often it doesn't. Either way, he ploughs on like a man who really, really loves ploughing (albeit a man who doesn't express his plough-love through his facial expressions).
First over of the day, last over of the day, first day of the series, last day of the season, Jimmy bowls at 85mph and he tries to take wickets. Every now and again, he gets what he deserves – but not often enough.
This lad from Lancashire puts in so many hard yards that it makes more sense to measure his effort in furlongs or leagues. He is way in credit. That was why it was great to see him get a few wickets today. Cricket owes James Anderson.