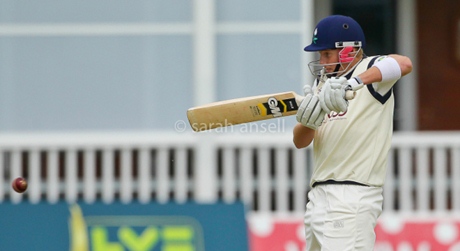 On Sky, Nick Knight asked why England had been scoring at two runs an over, like it was some sort of policy. The truth is that even Kevin Pietersen couldn't score quicker. Early wickets probably brought added caution, but the pitch seems to have dictated that there will be some drab cricket in this match. However, it will be fascinating to see how the players cope with that.
Ian Bell didn't cope. He rummaged around for a viable run-scoring stroke and found nothing. He therefore explored some less predictable options, such as the aerial block. This didn't prove effective. Bell will probably be fine in New Zealand, but his limitations against spin are evolving rather than receding. Monty Panesar's inclusion in a team should perhaps automatically prompt his removal.
Jonathan Trott sort of coped, but then forgot to hit one delivery, seemingly having forgotten that he had taken a more legside stance. We can probably consider this to have been the kind of stupid thing one only does once, such as going to the Trafford Centre in December.
Matt Prior has coped, which is to be expected, because he's magic. More impressively, Joe Root's coped. We can't remember what we were doing when we were 11, but we certainly wouldn't have batted with the same solidity if we'd been asked to make our England Test debut.
It is hard to know what to make of a score like 199-5 in these circumstances. We suspect it's not good. We suspect India's batsmen will be better able to wait for the ball and also do something with it when it finally does reach them. On the other hand, maybe the slow speed of the pitch won't buy enough fractions of a second to make up for the unpredictability of the bounce. So many questions. So much doubt. We guess this is why we follow amwhole Test match and not just the first day.
By the way, hats off to India for fielding four spinners and one fast bowler. It's the kind of strategy we might have adopted when playing Brian Lara Cricket
and is therefore to be applauded. Come to think of it, this is often how we batted in Test matches on that game as well. This means we can probably expect a complete loss of patience midway through tomorrow which will see sixes alternate with wickets for two overs. India will then duck slower ball bouncers and find themselves all out for three.