2
minute read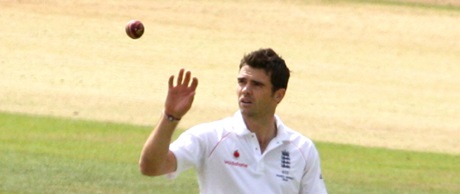 They always say of Twenty20 cricket that it's ideal for modern lifestyles because we're all so busy these days, as if everyone's got oh-so-many important things to do all the time and all those labour-saving devices have had no impact. It's probably true though. We are busier. We're busy watching Test cricket because they constrict entire series into little more than a fortnight so that we have no time for anything else.
This is our way of saying that we have to write about James Anderson's England Test wicket record today because the next Test starts in a few hours. No time to mull things over. No time to reflect. We're still chewing over the first Test, but already the plate's being whisked away and replaced with the next course.
So Jimmy then?
The truth is, we have very little to offer. We've been writing about James Anderson fairly regularly for nigh-on a decade now, so we don't have a huge amount to add. Just as you're only really one day older than yesterday on your birthday – same as every other day – so Jimmy's taken just one more wicket, even if it did take him past Beefy.
Who he went past is probably the most meaningful gauge of what it means to have become England's top Test wicket-taker. Ian Botham was not like other England cricketers. He was a comic book hero who performed outrageous feats. Ask an Englishman who knows nothing of cricket to name an England cricketer and they will name Ian Botham. If you only know one cricketer, you know Ian Botham.
And Jimmy's taken more wickets than him.
Several years ago
We've followed James Anderson's career as closely as we've followed any career, right from his first-class debut. We claim no great insight here. It was just blind luck.
When he first appeared in county cricket, we were working with someone called James Anderson who also liked cricket and also followed Lancashire. As you might imagine, we both checked the scorecards religiously and joked about his progress. That progress was famously rapid.
We would have been behind him from then on anyway, but at some point shortly afterwards we saw him playing for Lancashire and he swung the ball and took wickets. We thought he was great. Perhaps this is hindsight, but within a year or so of that time, we can start testing our memories by comparing them against things we wrote on the internet. We wrote that he was great. But not only that. It seems we also wrote that he was magic.