2
minute read
Tom writes:
Having not been to Sophia Gardens before, I was a little unsure what to expect. However, having been to international matches before, I knew that I would be at least £60 less well off before I started.
Nevertheless, we got in, only to find out they can't serve until 10am. There was a man with a watch there to enforce it.
We made the mistake of going to the first bar we found: Foster's or Strongbow. I wanted something vaguely resembling beer, so cans of John Smith's it was.
£5 each, plus £1 glass deposit.
What?
We mooched around the ground and found bars that sold a better standard of drink (more fool us).
We came across the team playing 5-a-side. That clearly meant a late start – not that anyone bothered to announce it.
A glance at the Guardian site informed me that the toss was delayed because of the rain. Why do you need to delay a toss? It went ahead shortly and Australia elected to bowl – as you would unless your surname was Hussain or Ponting.
I avoided the food because it was ridiculous – right up until I seriously had to eat. I bought a hot dog which was a shade under the £6 everything else was. It was just about edible.
A man had an odd shirt on who sat on the steps.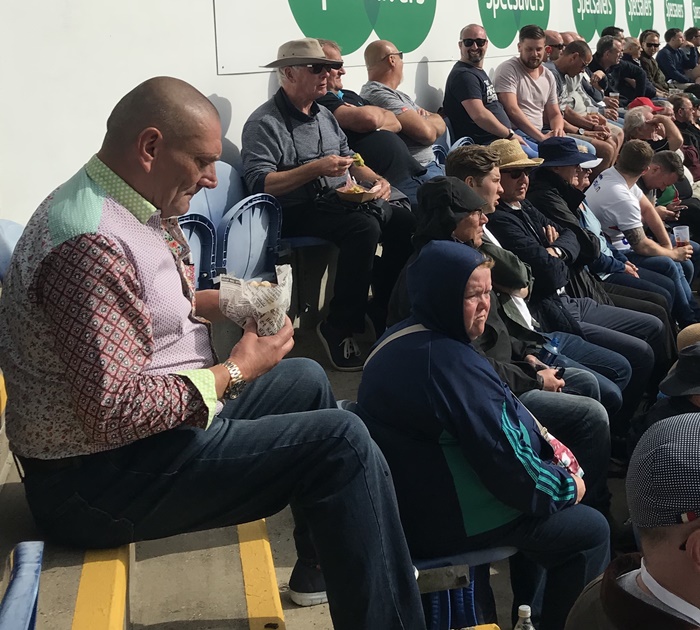 We won with plenty to spare and so back we went to our conveniently located hotel.
I had to go to Brussels the next day so other than a couple of pints round Cardiff, hoping to run into Gladstone Small, Mike Gatting or anyone, I called it a night.
Send your match reports to king@kingcricket.co.uk. If it's a professional match, on no account mention the cricket itself. If it's an amateur match, feel free to go into excruciating detail.