Lisa writes:
I was sitting upstairs on the bus with TMS on my headphones on my way to meet some friends in the pub when a middle-aged gentleman came up the stairs and started handing out what looked like flyers. Grateful that the headphones meant I didn't have to say anything more than 'thank you', I took one to be polite and noticed that it was in fact a little comic/booklet called 'The Execution'.
The story of Sonny, his rat and his evil ways was very dramatic.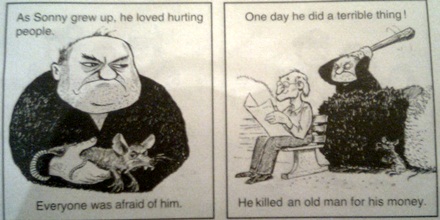 The way his kindly mother remains committed in her love despite his constant vicious rejection of her (and her cookies) was very moving. I was in tears (although not exactly of grief) when she persuades the authorities to allow her to be hanged in his place, in a strikingly subtle metaphor for the sacrifice of Christ.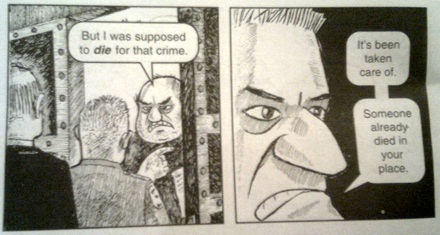 The sudden dramatic change in both illustration and prose style to dense evangelical proselytising and airbrushed Messiah poses that followed this revelation was also something to behold, especially the final panel condemning non-believers to eternal damnation."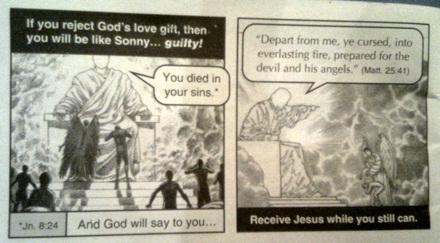 Just as I had reached the last page of the booklet and was deciding that I would probably be ticking the 'no' box in response to the question, "Did you accept Jesus Christ as your own personal Saviour?" there was a massive bang as the bus hit a taxi. Or rather as a taxi hit the bus. This was obviously a Sign.
Luckily we were nearly at Highbury Corner but I still had much to ponder as I walked up the Holloway Road through crowds of Arsenal and Rangers supporters pouring out of the Emirates. (I couldn't work out who had won, although the 'Gers fans looked slightly grimmer [and balder]).
There were no football-types at the Prince Edward so I was able to greet my friends with equanimity, although the looming presence of Holloway Prison meant I could not forget the Message of the booklet.
The conversation flowed and as I am a lady I was able to multi-task: take part in the conversation and listen to Aggers and co. from Edgbaston. No-one noticed that my mind was partially elsewhere until I started when something happened at the cricket. I am loath to mention it except that just at that moment 'Amusing Pseudonymous Name' was describing how his mother was finally showing signs of recovery from a devastating nervous breakdown and my split attention did not go down well.
Even when I explained that Katich had fallen, there was little sympathy and it was suggested that I should get my priorities straight. Maybe The Execution had much to teach me after all.
Send your match reports to king@kingcricket.co.uk and on no account mention the cricket itself.
For the full story of The Execution, see here. Our favourite section is when the criminal says to his mother: "I hate you… and your cookies!"