Sorry for those of you still waiting for match reports to appear, but we thought we'd make an exception to our normal rules about leaving everything in the queue for months on end in order to maintain the Ashes theme.
Remember that this isn't Sam's fault when you start the dissing.
Sam writes:
Ahead of our attempt at an Ashes all-nighter on Friday we ate pizza, watched Peep Show and two of us headed to Sainsbury's for supplies.
We purchased a bottle of Bell's whiskey in honour of Ian Ronald, a four pack of Red Bull as a nod to KP's hyperactivity, and some vodka and beer because – well, why not.
Returning to the flat we noticed that the other two in our party seemed to have transformed the kitchen into a betting shop, the whiteboard filled with names and numbers that I didn't understand.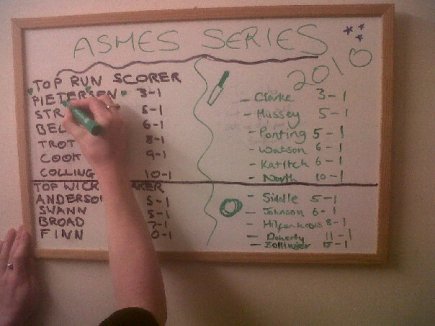 For reasons I won't go into here we had two televisions in the lounge, neither of which were in working order, so we all crowded round the laptop for the start of play.
After lunch just two of us remained. Several beers, some vodka and Red Bull in a mug and two packets of Pringles – inevitably referred to as Dereks – were consumed before we switched to cups of tea to keep us going.
At tea time we decided we couldn't take another wicketless session and headed to bed.