2
minute read
We went to the second Test between England and Pakistan. It was one of your 'on and off' type days where the line between raining and not raining becomes blurred.
Having greatly enjoyed the timeless rope dragging technique at Bristol earlier in the summer, we were interested to see whether Old Trafford's ground staff would also resort to this old and ineffectual tactic for combating surface water.
They did. And being a Test match ground, they also took things up a level.
Not only was the rope dragged by two motorised vehicles, but the drivers also ensured that they went either side of the stewards positioned on the pitch, forcing each of them to jump over the rope. As they slowly approached each one, the crowd treated itself to the slow-build crescendo cheer usually reserved for hat-trick deliveries.
As with every other visit to Old Trafford, "The Device" got an airing. It occurs to us that we've never actually shown you "The Device," so here's a picture.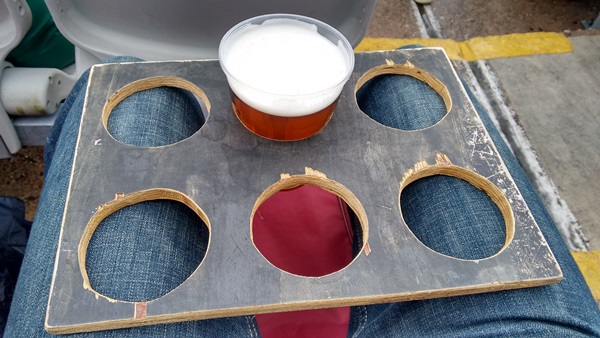 In this shot "The Device" is fulfilling its secondary 'makeshift table' function, but you can easily imagine it being deployed for a quadruple carry back from the bar.
"The Device" has been rigid and dependable for its entire 20-year career. It is the Misbah-ul-Haq of pint-carrying contraptions.
Midway through the afternoon, we noticed that there was a permanently non-illuminated square on the big screen. Not only was this distracting for replays when it was often a similar size to the ball, it also raised the distinct possibility of an accidental Hitler whenever there was a close-up.
You can see it looming threateningly in this shot.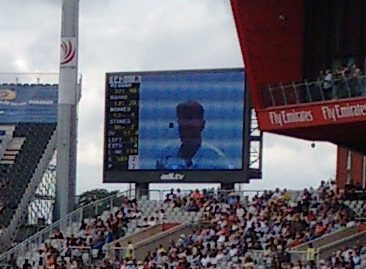 Your imagination can do the rest.
Send your match reports to king@kingcricket.co.uk. If it's a professional match, on no account mention the cricket itself. If it's an amateur match, feel free to go into excruciating detail.