< 1
minute read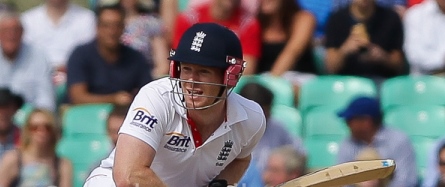 "Even more than making it in Twenty20 or 50‑over cricket my real ambition has been to become a Test player," said Eoin Morgan when England first gave him a shot at the five-day stuff.
After 16 Tests and two hundreds, it seems highly unlikely they'll give him another go, but the ICC's latest proposals would see Ireland become a Test nation. The country of his birth would surely give him a game, no?
A certain part of us would love to see Morgan up sticks and head home purely to see how forceful and obnoxious the "SEE! SEE! WE TOLD YOU HE WAS A TRAITOR!" response would be in those parts of the media that like to characterise him as a kind of national-anthem-scorning pseudo-Pietersen.
The truth is Ireland's Test status wouldn't be for another couple of years, even if it happens, and Morgan currently seems rather heavy-in with leading England's short format sides anyway. A career-minded cricketer, you can't really imagine him walking away from his current job.
This might be a possibility further down the line though. If nothing else, a Test match between England and an Ireland side led by a cold-eyed Morgan furious about media criticism would surely be well-attended. Even if they played it in April. Which they would.