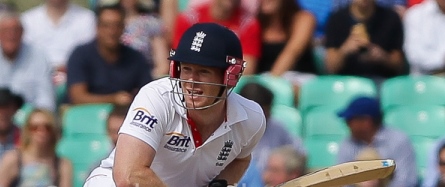 We're proud to say that we were at the worst international match of the summer yesterday. We sensed it wasn't going to be a rip-snorter from the moment when Jason Roy was given out for the second time in the first over. At least it was sunny. We'll do a match report at some point, but it's way down the queue and will probably appear in about February.
One of the most striking moments of the day was when Eoin Morgan was pinged on the side of the head. Sometimes players get a glancing blow and you don't really worry, but this was really square on and the most horrifying thing was probably how far the ball bounced back after hitting him. We were also there when Stuart Broad took one in the face, so maybe our presence is some sort of distraction.
Morgan has often looked a candidate for this sort of thing. Once he's up and running, he can cope with anything, but when he's playing himself in, he really doesn't seem to deal with short, fast deliveries at all well. Trevor Bayliss says they'll work on it. Hopefully they can minimise the likelihood of sustaining brain injuries and if in so doing they improve his batting, so much the better.