3
minute read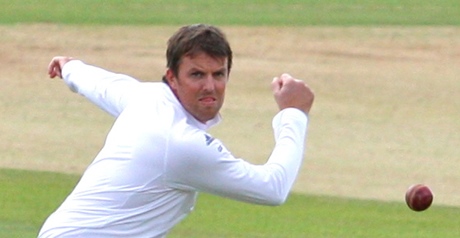 Graeme Swann's retirement seems somehow emblematic of England's current state. It sounds like he's been aware of reduced efficacy for a while now, but could put it to the back of his mind so long as England were winning. Now they're losing and the ensuing clarity has shunted a memorable bloke out of the game.
The four-man attack
Reacting to Swann's retirement, Darren Lehmann said:
"He's a big player when they've only got four bowlers – or now they've got five with Stokes in their side – and you have to try and take one or two of them out of the equation and make their quicks bowl more."
That's a pretty good explanation of why Swann has been so important for England. It really is more than the wickets. We wrote about this back in 2009 and used the word 'linchpin'. That word's both overused and misused, but it's entirely appropriate here. England's entire strategy revolved around Swann and it was also he who ensured the wheels didn't come off.
Swann simply couldn't afford to have a bad day. Batsmen get ducks and pace bowlers shoulder a lighter workload when measured in overs. Swann's performances were therefore disporportionately influential. Even when he wasn't taking wickets, he had to be able to eat time on unfriendly pitches so that each of the three seamers could rest.
Even without the wickets, runs and catches, Swann was a facilitator. He allowed the pace bowlers to perform at their best and he allowed England to pick a sixth specialist batsman.
Until now
The plan outlined by Lehmann is pretty much the same one everyone's gone with against England for the last five years. It's the obvious thing to do, and yet England managed to stick with a four-man attack until two Tests ago. In other words, Swann's been good enough to withstand these assaults until now. Read his retirement statement and it's clear that will and body have waned in harness and that's why it's the right time to go.
Breadth of skills
You need to be a very adaptable player to fulfil the role of spin bowler in a four-man attack and Swann was most definitely that. He had the accuracy and intelligence to constrain on seaming wickets and he could also do the thing that defined him as a Test bowler.
Graeme Swann was not a spinner who gradually eased into a spell. He dismissed Gautam Gambhir and Rahul Dravid in his first over in Test cricket and this was in no way aberrative. His first over was always worth watching and this was especially the case when bowling to a left-handed batsman.
One ball to size them up and then a second to dismiss them.
Plus he could catch, plus he could bat – okay, maybe he couldn't bat, but he could hit fours – and perhaps most importantly of all, he has the priceless and rare ability to cut through the shit.
Ask a stupid question, get a decent answer
Swann's not a comedian, but he can certainly make you laugh – you know, like normal people do and like sportsmen conspicuously don't. Interviews were like actual conversations rather than strange set-pieces played out according to constrictive regulations. If he saw an opportunity to say something that might amuse him, he would take it.
For example, how did he break it to Alastair Cook that he would be retiring?
"He is one of my best mates so it should have been a very easy conversation but it actually made it doubly hard, just to sit down over a coffee and blurt it out. It was like one of his team talks – it didn't make any sense. But I got it out in the end."
Graeme, you will be missed more than most.