2
minute read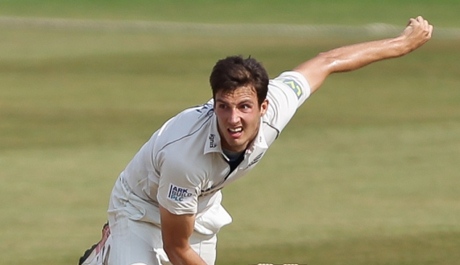 Once again, Mitchell Johnson rocked England. He took 2-66. (Wickets taken via bouncers count double, it seems.) After that, it was back to England dismissing clueless Australian batsmen, which was really rather delightful.
This Test has brought back memories of the magical folding Australia side of a few years ago. Back then the top order were basically just lamp-posts; insignificant objects you didn't pay any attention to which you quickly passed on your way somewhere else. Soon enough, Micky Arthur was given the boot. Darren Lehmann received plaudits for resuscitating the side, but he largely achieved this by bringing back a previous generation. It's striking that several years later, he's still relying on the same policy.
The thing is, now those same players are much, much older and the generation below are getting old as well. Nature abhors a vacuum, but Australian cricket is unnatural. Nothing seems to be filling the gap. Drop Michael Clarke, drop Adam Voges and bring in… Shaun Marsh?
Steven Smith has risen to the challenge and David Warner has established himself, but it feels rather like Lehmann is driving everyone towards some Clarke-less, Rogers-less precipice. It'll be interesting to see whether he finds a way of turning the vehicle before the fatal moment, or whether he simply bails out at the last second.
Steven Finn was the main beneficiary of Australian ineptitude today. The word 'unselectable' has therefore been receiving a repeat airing to drive home the heart-warming nature of his resurgence. But never mind the heating of internal organs – his return is plain old admirable. He had a tough time, he couldn't bowl for shit, he despaired, he got over it, he worked, he practised and he succeeded. He'll probably take 0-200 in the next Test, but let's frame our story with this as the ending and then start a new tale.
As for the batting, barring one or two exceptions and a few strange passages of silky strokeplay, it's not been particularly excellent in this Test. Australia have made a point of being worse than England, but the home team had to make full use of their eight batsmen, which isn't an especially good sign either. Maybe modern Test players as a whole aren't particularly good at dealing with sideways movement – but then that isn't really their job. Ninety per cent of the time being a Test batsman is about making as many runs as you can in fairly benign conditions. They get picked on that basis.
Australia are better than England in fairly benign conditions. We're rather hoping they don't get to prove that again.