< 1
minute read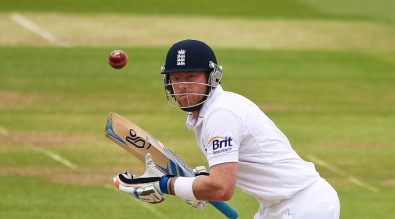 We're way past Ian Bell 2.0. Being as he's 33 and batting at three, we're going to call this incarnation Ian Bell 33.3. Hopefully that won't prove to be its batting average.
Most of the previous Ian Bells have looked solid only to get out in infuriating fashion when you least expected it. This new version's different. This one seems hell-bent on scoring at at least a run a ball and consequently its dismissal only ever feels a delivery away. But it's fun while it lasts. It rattles along at a frightening rate, pinging drives through the covers and slicing back-cuts between the slip fielders like its risk-assessment circuits have malfunctioned.
It was also good to see England attack a victory target with gusto. You can sometimes inch to a win and leave the opposition feeling more uplifted than you are. This was more akin to getting a few bonus jabs in before the next round. 'Remember last time you bowled to me and I flayed you for three boundaries every over?' you seem to say as you walk to the middle in the next Test.
Ian Bell.