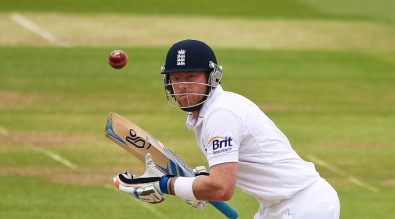 Turns out Ian Bell's not retiring. You may have heard that he maybe possibly was. You may not. Either way, he isn't.
The umming and ahhing does hint that his career is nearly at an end though. Soon enough, the bell will toll and watching Bell will no longer take its toll. We should probably embrace his pure, unadulterated Ian Bell-ness while we still have time.
Even earlier this summer, people were discussing whether a move to three might be the making of Ian Bell. That he is still widely considered unmade after 199 Test innings is quite something. There's a certain art and majesty in continuing to maintain such a perception.
Always leave people wanting more, they say, and Ian Bell generally delivers in that regard. Quite how a 33-year-old veteran can still be thought of as having promise is one of the mysteries of the age. One day, many years from now, he'll move his zimmer frame just so and onlookers will see it as an indication that he's finally cracked this batting lark. At this point, Bell will drop dead. Always one step ahead of us, Bell; constantly finessing what might one day be revealed to be the greatest post-modern joke in the history of sport.
For now, all we can do is look on in wonder. Hopefully there will be at least one more dreamy, effortless innings cut short by an unexpected bout of seppuku. Rather than curse and wail at the moon in frustration like we usually do, maybe next time we can smile and say: "That Ian Bell – his ability to continue playing cricket like Ian Bell really is quite something."