4
minute read
Dumbo The Suzuki Jimny writes:
My name is Dumbo. I am a little Suzuki Jimny, making my living by being Ged Ladd's car. In our neighbourhood I have lots of big relatives, mostly Range Rovers, commonly known as Chelsea tractors.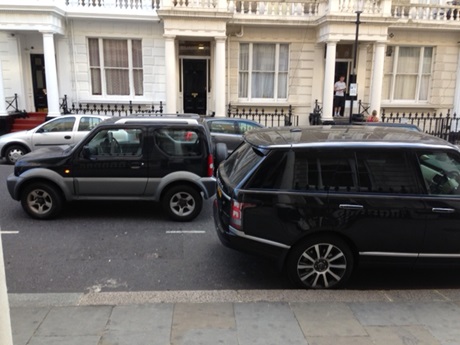 Those big posh Range Rover fellas claim that they are from the right sort of family, whereas I am not. We are all cricket lovers, of course, but the Range Rovers are members of the MCC (Motor Cricket Club) whereas I am a member of the MCCC (Motor Car Cricket Club), which the big boys tell me is a smaller, lesser brand. The bully in the photo is so big, there's neither room for me to park nor room for his big head in the photo.
Anyway, soon after Ged and Daisy's jaunt to Lord's to see the Middlesex v Durham match, I took them to Ireland for a couple of weeks, during May 2015. At the end of our holiday, we checked into our last night hotel, the Clontarf Castle, but then decided to see the Casino at Marino and also take a look at Clontarf CC.
Ged's satnav had trouble finding the Casino at Marino – the satnav wanted us to go to a cafe in Marino instead of the neo-classical house. In the end we got to the right place. Ged said that it was the least expensive visit to a casino in his entire life. He also said it was only his second ever visit to a casino and that this Marino one wasn't a gambling casino.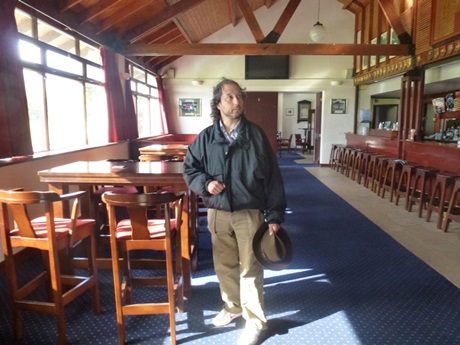 We arrived at Clontarf CC in glorious sunshine and I parked up for my first ever cricket match with a terrific view of the wicket, just beyond the boundary. Ged and Daisy wandered around to the pavilion, but by the time they got there, a shower of rain had started, so people were running around putting covers on the wicket. By all accounts the Clontarf club members and officials were very friendly with Ged and Daisy, making them feel most welcome as visitors. The locals told Ged and Daisy that Clontarf seconds were to play Leesh, weather permitting.
Ged had no idea where Leesh is and wondered why, if the club was playing against Leesh, that the score book said Laos, which is a small but beautiful landlocked country in South-East Asia where little cricket is played. But it seems that Laois (pronounced "Leesh" and not spelt Laos) is actually a small but beautiful landlocked county in Ireland where little cricket is played, so that all made sense.
Soon the rain stopped, the sun came out again, the covers came off and the game started. It all seemed very relaxed and yet taken seriously. One of the Clontarf players had to stand in for a missing umpire; Ged wondered whether he would be asked to do those duties, or perhaps to commentate on the match, as Ged is usually asked to do in his capacity as visiting dignitary when he visits remote, far-flung corners of the former British Empire.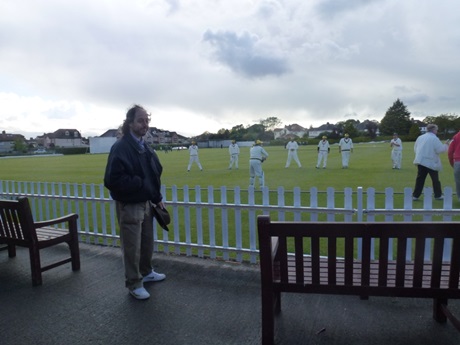 At the start of the third over, from the castle end, I noticed the Clontarf batsman eyeing up cow corner, which was exactly where I was fielding, just over the boundary. I was hoping to take a catch in the crowd or something, but then I saw Ged and Daisy running towards me and I guessed that they wanted to go.
"Ride like the wind, Dumbo," said Ged, while starting my engine. "Giddy-up, boy."
I should explain at this point that, unlike the bowler Mark Wood, who has an imaginary horse, I actually AM an imaginary horse, which is far more fun. Sometimes I'm an imaginary flying elephant instead, which is also fun.
Anyway, it transpired that Ged and Daisy had also spotted the batsman eying up cow corner and were worried that I might get injured attempting to catch the ball. As we all had a very early ferry to catch the next morning, they thought that we should cut and run before the batsman got a chance to pull and not need to run. Anyway, a few minutes after we got back to the hotel, it started to rain again, so I don't think that my first ever cricket match saw a result.
Send your match reports to king@kingcricket.co.uk. If it's a professional match, on no account mention the cricket itself. If it's an amateur match, feel free to go into excruciating detail.