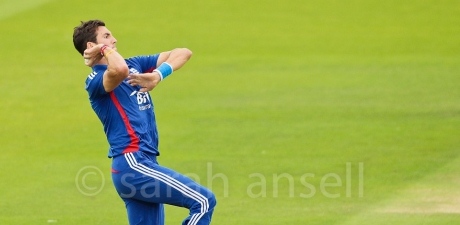 Earlier this week, we wrote about England's back-up bowlers for The Wisden Cricketer, saying they were all a bit samey. The one guy we didn't mention was our former One To Watch, Steven Finn.
Finn actually got picked to make his Test debut against Bangladesh and it's the fact that he's not an 85mph swing bowler and lower-order batsman that got him the nod. He went for a few runs early on, but we tend to ignore a player's first few Tests when sizing them up. Debutants are racked with nerves and rarely give a good account of themselves.
Far better to look at what he offers that others can't. For a start, Finn's six foot seven. That's always handy. As regards his bowling speed, he was bowling 87mph in his first over. That bodes well.
87mph is pretty much par for the course for England pace bowlers, but if Finn gets up to that speed in his first over, you can guarantee he can top 90mph. England really need that.
The one downside is that his Test selection is bad news for the National Cricket Academy at Loughborough. Who's going to trim the top of that hedge now?