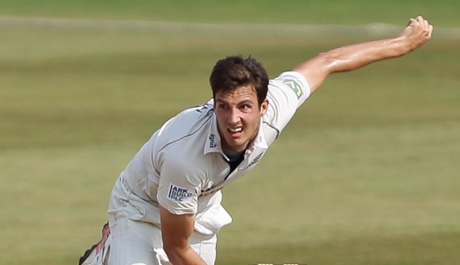 Most of you will answer 'yes'. Finn's performance in the third Test is fresh in the mind and it's hard to argue that his best isn't a notch above Bresnan's best, but that's not the whole story. We're pretty good at squash, but that doesn't mean we don't accidentally twat ourself on the knee with the racket every once in a while.
Like us, bowlers have highs and lows. Some deliver their best about one match in 20 and it's hard to evaluate players like that because the eye-catching performances are those which influence our perceptions the most. Finn isn't quite a Mitchell Johnson or a Steve Harmison, but the same principle applies: the bad days count too.
The bad days
Let's assume we're happy with Finn's best. Can England accommodate his worst? Every bowler has off days, but Bresnan is able to exercise damage limitation in a way in which Finn can't. England can work with this and even Bresnan's off days help contribute to their philosophy of bowling dry.
We're not a massive fan of that approach, but that isn't to say it's wrong. Our main reservations are that it's kind of dull to watch and that England are too slavish in their devotion to it. However, against some batting sides it's very effective. A Finn bad day rather undermines it though.
The collective bad days
On balance, we'd still go for Finn over Bresnan when picking a Test team. England may or may not be able to bowl dry with Finn in the side, but without him there are things they definitely can't do. Leave out a tall fast bowler in favour of reliable fast-medium and you reduce your options to the point where you might be committed to a bowling approach that simply isn't working.
There's also the fact that Finn appears to be improving. It's not so much that he's become more accurate every time he bowls. It's more like his good days are coming more frequently. Maybe they'll blur together in the future giving the title of this article a more straightforward answer.