< 1
minute read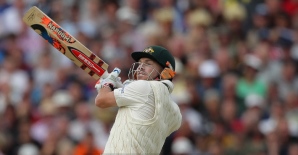 Australia drew with India, but let's not focus on how admirably they're performing. Who the hell wants to read about that? Let's instead concentrate on tangentia.
David Warner has said that "it will turn around" for him with regards to his recent poor form. We agree. If he keeps being disciplined and preparing assiduously, pretty soon he'll find himself playing in Australia again and everything'll be fine.
Virat Kohli has called Cheteshwar Pujara "priceless" and "the most composed player we have in the team." What he didn't call him was India's best batsman.
Elsewhere, the ECB seemingly have plans to play World Cup matches at the imaginatively named London Stadium, which was built for the 2012 Olympics. While there's a certain jaded "seriously?" quality to this news in light of their having encouraged counties to invest heavily in their grounds for the last however many years, it's equally true that it would be great to have 60,000 people attending a cricket match in Britain.
Finally, take a look at our latest Cricinfo Twitter round-up, in which we flirt with the sack by devoting around half of the column to Charles Dagnall's attempt to repair a brick shed. The critics have been calling it nothing at all because hardly anyone's felt moved to read it.