2
minute read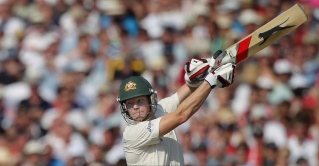 The notion of a 'best batsman in the world' is stupid. You rate them based on what's already happened and it counts for nothing the next time they're pitched into competitive cricket. Cricket is not a prolonged personal odyssey, it's a series of matches between teams. A high ranking gives you some idea who to look out for, but it is not an end in itself.
The buffer
In December, Steve Smith scored a hundred and we said that everyone would instantly forget the situation the day before and now proclaim him clearly the best batsman in the world.
Our point was that Smith, Virat Kohli, Joe Root and Kane Williamson were all performing at a similar level and 'the best batsman in the world' was generally whoever had been batting most recently.
Well, according to the latest rankings, Smith's opened up a gap. Like so many foods, rankings are best served heavily salted – but they can be informative. According to these ones, not only can Smith afford a couple of failures and still be ahead of his contemporary rivals, his current score is also behind only four other batsmen ever.
Smith is on 941, looking up to the peak scores of Don Bradman (961), Len Hutton (945), Jack Hobbs (942) and Ricky Ponting (also 942 – has anyone checked the decimals?).
Viv Richards and Garry Sobers peaked at 938; Jacques Kallis and AB de Villiers never topped 935; and Brian Lara never got above 911.
What does this tell us?
Steve Smith is not better than all of the above. What this tells us that he's been playing well for long enough to earn himself entry into the kinds of mind-crushingly tedious putting-players-in-order conversations that the comments sections of cricket websites occasionally descend into.
That, in itself, is a notable achievement. It's also further fuel for our argument that batsmen with hideous techniques are fundamentally better bets than stylish ones. Not only do the shonkier-looking have to do more to win people over, their textbook rivals may also have little room for technical improvement.
In short, succeed with a dog shit method and you've probably got a half decent eye.
Myopic hindsight
Smith's technique is very much his own. Back in 2013, we floated the possibility that this could be misleading, but it was still impossible to foresee what was to come.
In many ways it remains hard to see – even when sporting the night vision goggles of hindsight. The numbers are there (he averages 60.98), but can you honestly say that you don't still think to yourself: "Ah, things'll sort themselves out eventually. Give it time."
What if things don't sort themselves out? What if Steve Smith is the best batsman in the world?