2
minute read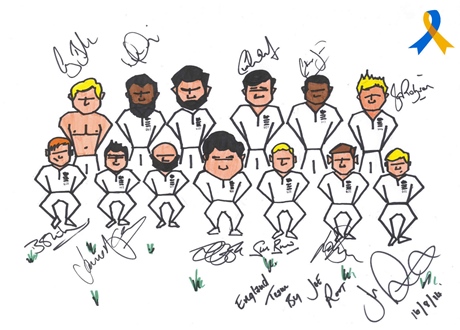 That's Joe Root's work above. It's one of a number of portraits produced by players and commentators which are being auctioned off to raise awareness of Cricket United Day. Cricket United Day is on Saturday and will see funds raised for a handful of cricket-themed charities. You can donate here.
We're not quite sure why, but it's interesting to see which England players possess even a slight bit of artistic ability. Here's the full range. It's particularly interesting to see Michael Vaughan's pathetic effort in light of the fact that he is one of the few cricketers to have claimed to be an artist. Joe Root is definitely the best. Here's his Monty Panesar from last year.
Blurred Lions
What you really want from fixtures played by England's second string are clear-cut conclusions. We remember England A playing India A and a few state sides back in 2004. Hardly anyone made a run, but Matt Prior got a few fifties while Kevin Pietersen made three hundreds. It was pretty clear that they were better than the others.
England Lions' tri-series against Sri Lanka A and New Zealand A has been less conclusive (except insofar as New Zealand A were unbeaten). Several players have performed well, but none has really stood out.
James Taylor has been the Lions king in recent times. He made one hundred in three matches, but so did Alex Hales, Ravi Bopara and Jonny Bairstow. If you had to choose based on this little tournament alone, Bairstow's 250 runs in three innings puts him a little ahead.
Bowling-wise, Steven Finn took one four-for and generally went for a few. David Willey took a five-for and went for even more.