2
minute read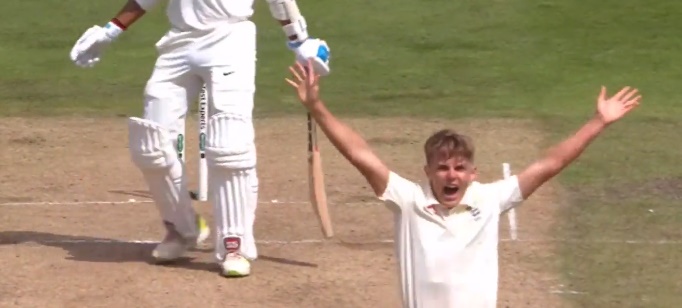 England have picked three spinners and so far they've out-bowled Sri Lanka's spinners. That's pretty weird and unusual and attracts so much of your attention that it's easy to overlook the seemingly-irrelevant constitution of the pace attack.
But the pace attack is worth a look, because with places scarce, decisions have been made. It was Sam Curran who opened the bowling with James Anderson.
Back in May, before he'd made his Test debut, we said that we'd quite like Curran to play Test cricket, but that we didn't much like any of the circumstances in which he would play. Curran was almost the right choice, but not quite the right choice. While there was much to admire, it was hard to see an area where he outscored any of his rivals other than through simple, straightforward wrong-handedness.
Maybe all it took to tip the balance was greater exposure to his relentlessly serious demeanour. Act seriously enough and people will either (a) take you very seriously, or (b) take you not in the least bit seriously. (We're not sure what the threshold is on that one. Maybe something to do with how you actually back up that seriousness performance-wise.)
In this Test, England have preferred Curran to Olly Stone, a fast bowler; Chris Woakes, an all-rounder who averaged 75 with the bat and 20 with the ball in the two Tests he played against India this summer; and Stuart Broad, a guy with 433 Test wickets and by any stretch a fixture in the side.
That's noteworthy, isn't it? That's a significant thing?
There comes a moment in the lifespan of every T-shirt when it doesn't get to go on holiday any more. It might still get worn around the house or under a jumper, but when opportunities are scarce and space is finite, you suddenly realise it's no longer worthy of a place in the suitcase.
This can only happen when there's a viable replacement. Quite often, T-shirts go on holidays they have no real right to go on simply because, despite their very obvious deterioration, they're still somewhere near the top of the T-shirt pecking order. Other times a sudden influx of new T-shirts denies an otherwise perfectly reasonable garment a trip it could certainly have expected to go on at any other time.
Stuart Broad is not yet tatty and nor is Chris Woakes, but Sam Curran has been chosen ahead of them. Okay, England bowled so well that he only actually bowled six overs in the first innings, but if that was the plan, it was one formed by someone whose mind and body is fatally riddled with optimism.
Suddenly, out of nowhere, it is very hard to envisage a scenario where England won't want to pick Sam Curran for the Test team.