2
minute read
How much do you care that this match is for $20million? Would you care ten times as much if it were 20/20 for $200 million?
No. Would you balls.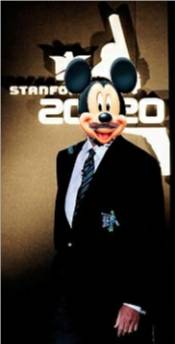 So how could Sir Allen Stanford possibly pique your interest? What prize might get you interested in the outcome of this match? He wants you to be interested. He can't buy history or prestige, so what could everyone's favourite wife-fondling, moustachioed Texan billionaire do to get you up for the match?
Our feeling has always been that the prize is irrelevant, but having given it more thought, we reckon we could engineer a situation where we would care.
The tactic is simple. There should be some sort of trophy that the winning players would wave around with triumphant looks on their faces – only the trophy would make them look like idiots. We'd care who won that.
Obviously, the players would have to care sufficiently to wave said trophy like they meant it, so maybe they could still win $20million and the trophy could be a sort of physical representation of that fiscal prize. It wouldn't have to literally embody it by being a big dollar sign or anything. As long as the players knew they had to wave it and that waving it meant they'd won all the money, that'd do.
Our favourite idea for the $20million trophy so far is just a big blackboard that says "I'm a knobhead" on it.
We hasten to add that we think the players are innocents in all of this – fortuitous innocents, but innocents nonetheless. Regardless of that fact, we'd still care who ended up waving an "I'm a knobhead" sign.
Thanks to Ceci for the above image.