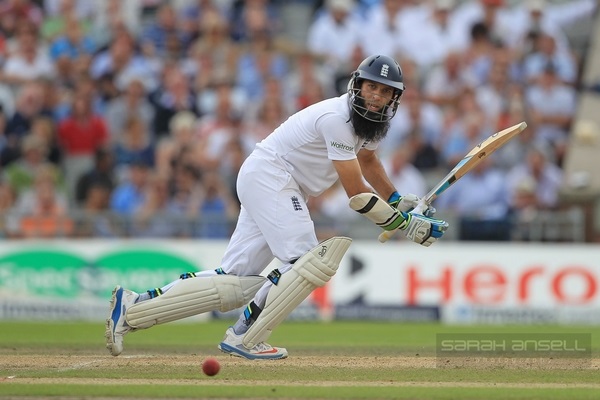 Smeared with exquisite timing and grace, we should say. It was poetic smearage. Smearage without breaking sweat. Smearage that involved all moving parts working in perfect harmony to pan the ball to the fence.
Morning session
It'll be interesting to read the reports about this morning's play. Was Alex Hales unlucky after hitting the ball in the air towards a fielder? Was Alastair Cook unlucky to completely mishit the ball, propelling it into his own stumps?
What happened after that was easier to interpret. Joe Root did a James Vince impression and James Vince was sufficiently unimpressed by it that he immediately felt compelled to demonstrate how edging behind should be done.
Perhaps England felt threatened by the looming presence of the mace. No-one seems to want the damned thing.
Afternoon session
Gary Ballance's dismissal clearly belonged in the morning session, both thematically and because it came in only the 28th over.
Pakistan were now so dominant that mace-spurning duties switched to them, allowing England to counter. Jonny Bairstow did his usual hunched biffing and Moeen Ali did nothing of the sort, nonchalantly flicking the ball to and over the ropes as if long hours in the gym were the most pointless activity in which any wannabe big-hitting batsman could ever indulge. He loves to feel bat on ball.
Evening session
Jonny Bairstow got a bit ahead of himself and thought it was Pakistan's turn to be on top. This meant England's two finest batsmen were now at the crease. Chris Woakes joined Moeen in their favoured pastime of batting sumptuously until it was time for the famously feckless momentum to yet again shift.
Woakes was out, just when it seemed he was entirely without failings and then Broad departed two balls later. Moeen Ali didn't care. He just carried on whopping the ball wherever he chose. He just loves these evening sessions for which Pakistan's bowlers seemingly don their heaviest shoes.
Moeen was last man out, which meant England got to bowl in what we're now going to name the night session on the grounds that it only began after the scheduled close of play.
Night session
With England having scored a somewhat ambiguous 328, no-one was quite sure which team was most at risk of being a mace recipient. Probably India, so Stuart Broad took a wicket.