3
minute read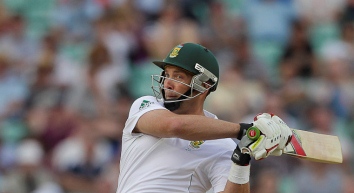 Before we begin, let us just say that we don't believe in comparing players or ranking them. We're now going to do precisely that as a kind of academic exercise, primarily to piss off a load of people who will always hold Jacques Kallis in somewhat lower regard than many other cricketers and who will continue to do so regardless of what we say here.
Batsmen v all-rounders
We always find ourself disproportionately annoyed when Michael Vaughan or Andrew Strauss or someone refers to Kevin Pietersen as being 'England's best player'.
Hardly. He can't bowl for shit.
An example we've given in the past involved pitting 11 Don Bradmans against 11 Garry Sobers. The rather obvious point this made was that cricket does actually involve bowling and so the best cricketers are those that can both bat and bowl.
Jacques Kallis fits that description better than most.
Batting
It's odd, but Jacques Kallis' batting is probably underrated. His Test batting average of 55.37 is currently the 15th highest of all time, above contemporaries such as Sachin Tendulkar and Brian Lara. However, it masks the fact that very few of his 45 Test hundreds were 'daddies'.
Only twice did Kallis bolster his average by passing 200. Compare this to Virender Sehwag who passed 200 six times and 300 twice out of just(?) 23 Test hundreds. Jacques didn't really do biggies, so he had to score more consistently.
Okay, those 40 red-inkers had a hell of an impact, but it's also true that South Africa have gone through phases where they've produced seam-friendly pitches so he's been up against that as well.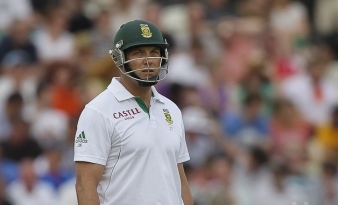 Bowling
They always call Kallis a reluctant bowler, but he's averaged 24 overs a Test match over the course of his career. That's a lot of work for a man who spent at least a couple of those years as a fat bastard.
You don't pick up 292 Test wickets without being half-decent either. He may have benefited from being asked to bowl more when conditions have suited him, but you could also say that he's sometimes not been needed when conditions have been most helpful.
Plus he was quick when the mood took him. Someone (we forget whom and aren't in the mood for research, but it was someone you'd expect to be a decent judge of these things) once told a story about Kallis getting pissed off about something and bowling far quicker than Allan Donald at the other end. He had it in him.
Short format cricket
The main foundation of the case in favour of  Kallis being considered the best of the lot is simply the fact that he's the finest all-rounder to have played in the modern three-format era.
One-day cricket and then Twenty20 cricket beneath that make different demands on a player and although Kallis appeared almost entirely unsuited to these formats with his careful batting approach, he revealed himself to be if not exceptional at these shorter formats, then certainly well worth his place.
Many boxes ticked
Look, we're not really saying that Jacques Kallis is the greatest player of all time. We're just pointing out that where even a half-arsed case can be made, you're talking about someone who's moving in those circles.
His exceptional career is too often dismissed with a terse: "Yeah, but he was just a blocker" – or words to that effect. But this was a guy who had to bat pragmatically because for many years the rest of his team's batting wasn't all that and if he didn't score, they lost.
He managed this despite shouldering a workload few have matched – hours of batting and hours of bowling in three different formats. How he didn't buckle long ago is freakish in itself.
We'll genuinely miss him. Flaws there may be, but such comprehensive mastery of a sport is a very rare thing indeed.