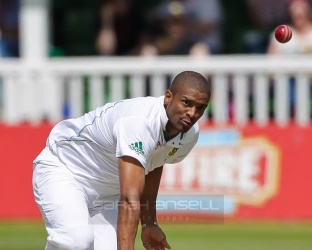 We've spent much of the morning trying to work out what kind of a vehicle Vernon Philander is. After much thought, we've concluded that he's not a vehicle at all – he's a pepper grinder.
South Africa have a lot of whizzy, fancy kitchen gadgets. Dale Steyn is the luxury coffee-maker you always look forward to putting into use; Kagiso Rabada is a new vegetable juicer – novel and good for you, but might yet break down; and Morne Morkel is a big gallumphing lankatron of genial ferociousness who would do all the chopping and dicing you asked of him even though his rampant gigantism puts him in a decent position to say no to anyone at any time.
Philander, by contrast, is a low-key functional object who does his job perfectly.
You need some pepper? Use the grinder – there's some pepper.
You need someone to bowl at the top of off stump, hitting the seam with every damn delivery? Use Vernon Philander – there's 152 Test wickets at 21.65.
Philander was away for a while. When he returned, he looked solid-of-midriff and you got the impression that surely now his logic-defying brand of medium-pace would be found out.
Not so. It just never seems to work out like that. People always expected his Test bowling average to swell like a spacehopper at altitude following a few series away from home, but it never really did.
His home record is superior – as it is for almost all players – but his away record is 57 wickets at 25.35. That is, basically, earth-shattering. If it's built on wickets taken in New Zealand and England then only in Sri Lanka and Zimbabwe is his record actually outright bad – and that's only three Tests.
Vernon Philander endures. Toastie makers and waffle irons may fall into disuse, but pepper will always be ground.
Clinical dobbery can take a bowler a very long way.