2
minute read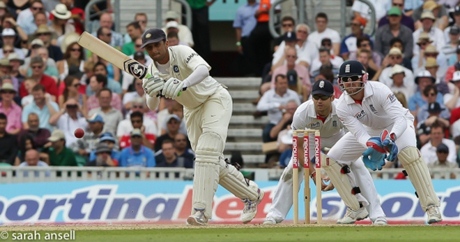 Gambhir, Sehwag, Tendulkar and Yuvraj aren't playing against the West Indies, so there were plenty of chances for India's up-and-coming batsmen to make their mark. Suresh Raina got 82 in the first innings and Harbhajan 70, but other than that it's all been eights, twelves and fifteens.
But batting's been tricky. The Windies have struggled too. Adrian Barath's the only West Indian to have made it past 27. Can no-one score on this pitch?
Yes, of course they can. Rahul Dravid made a hundred and quite frankly, everything is right with the world. If you're wondering how he did it when everyone else has struggled, you might like to spend a split second pondering the simple fact that Rahul Dravid is better than everyone else.
There's no need to scrutinise this too much.
First-class batting under lights
Earlier in the year, Dravid accepted an offer to play for MCC against Nottinghamshire in Abu Dhabi. It was a day-night first-class match and by all accounts the ball darted about a fair bit. Dravid made a duck in the first innings and when Nottinghamshire were then bowled out for 108, we wondered why Dravid was there.
He's Rahul Dravid. He can do what he likes. Why would he risk getting a relatively high profile pair in a first-class match which is really beneath him? Unconcerned by all of this, Dravid promptly hit a hundred.
Then, as an encore, he deflated all the arguments about the 'unfairness' of the ball doing more when the lights came on. His argument was as elegantly simple as his batting:
"Conditions change in Test matches and they change here."