3
minute read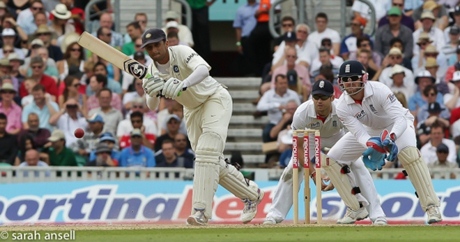 Looking through the archives, we've written surprisingly little about Rahul Dravid. Many of his best innings predate the site and also – partly as a result of that – we've always just assumed that everyone knew how good he was.
Forward defensives
They call him The Wall. It's meant as a compliment, but it misses the point. Walls do a job, but they're unremarkable and limited. You can paint them and dress them in wallpaper, but they basically do just one thing. If Rahul Dravid was just a guy in a helmet playing immaculate forward defensives, he would never have hit 13,000 Test runs and 10,000 one-day international runs.
Attacking shots
Dravid provided one of our formative cricket-watching experiences, if there is such a thing. It was a 1999 World Cup match against Sri Lanka when he and Sourav Ganguly shared a ludicrous partnership that took India from 6-1 to 324-2. Dravid was run out at that point and Ganguly then started hitting sixes to reduce Dravid's 145 to 'support act' status. That was so often the case. Best bridesmaid ever.
Subtle shots
Dravid could do things that no-one else could do. When it comes to batting averages, not every innings is equal. The last year or so of his Test career shows this as well as anything. There was a hundred in tough batting conditions in the Windies and then three in England against some very, very good bowling. He got his fair share of double hundreds, but his Test average of 52.31 was built on innings where the value was greater than the numbers might make you think.
At Nottingham, some of his singles required more skill and timing than 99 per cent of the boundaries that we see and with the going tougher than old biltong, they were arguably worth more too. It was batting for cricket connoisseurs: skill, experience, dexterity and intelligence changing people's perception of what was possible in that situation.
His 146 not out at The Oval – carrying his bat as a stand-in opener – was almost as impressive in its own way. Faced with an England first innings score of 591-6, Dravid's fellow Indian batsmen were showing all the resilience of a spaghetti portcullis. That can be infectious, but Dravid not only refused to get out, he showed younger team mates precisely how much better a batsman could be.
Just a Test cricketer?
There's a case for saying that Rahul Dravid has as much batting experience as any player in history. There are batsmen who've played more Tests, but his career has also coincided with the era of the one-day international and the rise of Twenty20 (in which he has held his own).
It's hard to imagine there's a situation in cricket that he hasn't faced. 120 to win, three wickets in hand, cloudy conditions, fifth day pitch, left-arm quick round the wicket? Yep, been there. 15-overs to go, run-rate eight-an-over, flat pitch, 40 degrees, finger-spinner, field spread? Yep, been there too. Been everywhere. Seen everything. Know what to do.
Maybe this is why it's time to go. It's great for fans to have a barometer of class; a tool which allows them to gauge how well everyone else is batting; but what does Rahul Dravid get out of playing on? We reckon he could bounce back from a poor tour of Australia, but why bother? He's 40 soon and there's virtually nothing left for him to see or do as a cricketer.
He's smart as hell and speaks better and more thoughtfully than most people on earth – maybe he can set the standard in some other way. We'll still miss him though.