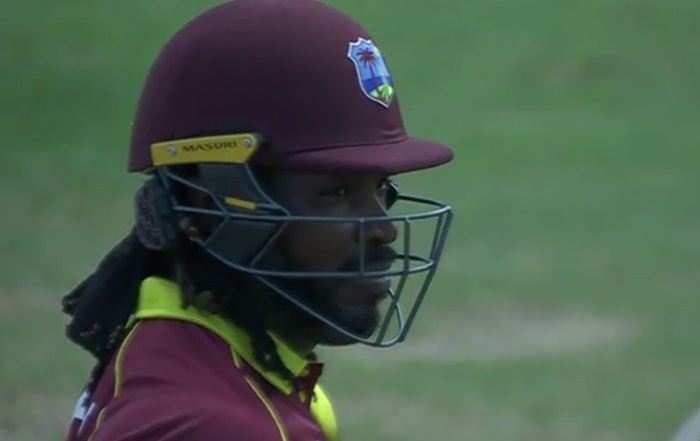 Look, we know you're not going to believe this, but we swear to you it's true: Chris Gayle ran.
It was a bit back. It was during the first one-day international, but we figure it was a significant enough event as to still be newsworthy, which is why we're reporting on it now.
First, a bit of background
Once upon a time, Chris Gayle ran semi-regularly. We don't accurately remember this period, but we're pretty sure it existed purely based on how much we've been struck by his more recent non-running.
Gayle was formerly a reluctant runner, but that reluctance has grown to the extent that he is now not so much a man as an obelisk in a purple hat.
The non-running is most noticeable when he bats. He walks his singles. Or, more accurately, he walks singles instead of running twos because he'd never actually risk leaving the crease for anything one might consider a single.
He's often willing to walk singles for his batting partner's twos as well, which is very big of him.
When West Indies are in the field, you will generally find Gayle in one of two locations: (1) standing at slip or short fine leg, or (2) lying down on the massage table back in the dressing room. (This is slightly unfair. He doesn't actually skip fielding anywhere near as much as some others have done (nor as much as he probably should).)
Chris Gayle did not run when he was batting, nor did he run while he was lying down on the massage table back in the dressing room. Chris Gayle ran midway through a spell standing at short fine leg.
What on earth prompted this?
Jason Roy swept a ball and it went past Gayle. Crucially, no-one was behind Gayle, and equally crucially, it didn't go so quickly that there was no point running after it.
Gayle turned and – we swear this is true – did maybe two strides of almost-running. He didn't run quickly and he didn't run for long, but he definitely definitely made some sort of effort to exceed walking pace.
It didn't last long. Of course it didn't last long. It was but a brief moment of hell between 'Should I run for this?' and 'There's no point running for this' at which point he slowed down again. It might even have been as soon as the second stride when the deceleration began, but that deceleration was only possible because he had accelerated in the first place.
It was just a few frames of footage really, but we saw it; we saw it with our own eyes. It was unmistakeable: the exertion of force through at least one of his two legs in an attempt to move slightly more quickly.
It may never happen again, but Chris Gayle ran.