3
minute read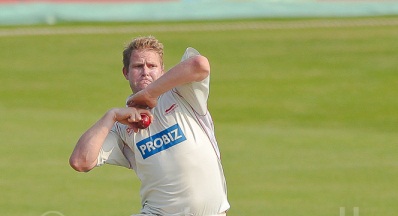 Have you ever been at a funeral where they've skipped through the first 80 years of the person's life before really dwelling on recent history? Half a century of adult life is summed up by counting progeny and then all the eulogy goes on about is how you liked a pint of mild and a game of dominoes.
People can struggle to think of a person in terms of anything other than what happened most recently. Perhaps that's the way people are conditioned to think about life – like it's one long progression. From this point of view, you've really cracked it near the end. Everything's fallen into place.
Just to confirm, Matthew Hoggard's not dead
We get a slight sense of this when reading about Matthew Hoggard now that he's announced that he will retire at the end of the season. Sporting life moves on frighteningly quickly and even those of us for whom he was such a vital figure may struggle to muster fitting emotions. It's not like he's dead. It's not like he's even retired yet. He's still there at Leicestershire, a sort of wishy-washy copy of an outstanding opening bowler with whom we are very familiar; a dilute methadone for an addiction we no longer have.
But this is to miss the point. Sport is primarily about the present with the future a secondary concern, but it's also worth looking back on the past from time to time to keep yourself honest when you look at what's happening now.
We are absolutely not going to use the word 'yeoman'
Even though we just did and even though the word will provide the framework for what we're about to say.
The perception of Matthew Hoggard was always of a toiler; the kind of cricketer who made the most of his talent (like that's a crime, rather than part of the job). This always grated with us, even if Hoggard himself tended to play up to it, saying he just whanged the ball down.
That kind of assessment devalues not just Hoggard, but the complexities of cricket itself. He may have bowled about 10mph slower than Andrew Flintoff and Steve Harmison, but he took more Test wickets at a lower average and with a better strike rate. In fact, in the very earliest days of our cricket writing, we did a short piece about how he was actually a strike bowler.
How did Matthew Hoggard take his wickets?
It wasn't just by whanging it. It was by whanging it in an obscenely skilful manner. As a conventional English swing bowler, he was a kind of proto-Anderson, but he also developed cutters and reverse swing so that he could take wickets basically anywhere. 6-57 in Nagpur, 7-63 in Christchurch and 7-61 in Johannesburg.
We also wonder whether his achievements have been partly devalued by the fact that he played his cricket in an era when terrible flat pitches were infuriatingly common. His average was forever being compared to those of the previous generation, but now we've all kind of come to terms with the fact that a bowling average of around 30 is actually pretty handy (even considering that pitch quality has since improved a bit).
So is that how he should be remembered?
As a hugely skilful bowler who was a vital component in the best England side seen in decades? Yeah, partly, but you need to tack onto that the fact that he had a great attitude.
An example is his batting, which was really bloody ordinary even at the point at which he retired from Test cricket. However, it took extraordinary effort for him to improve it to 'really bloody ordinary' and it takes a special kind of character to put in the hours with such minimal obvious reward.
Vindication came with a jarringly dreamy cover drive as England stuttered towards a win in the 2005 Trent Bridge Test. That moment summed him up for us. Without knowing the background, it was just a tail-ender hitting a four. But if you'd followed his career and the painfully slow development of his batting, you'd see it as the low key culmination of something special.