2
minute read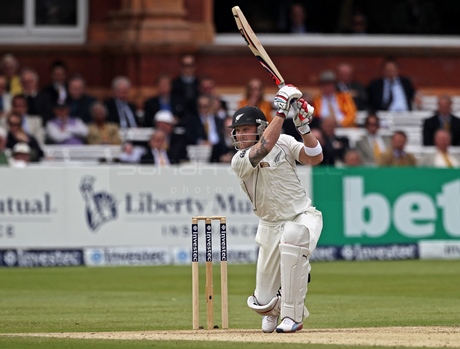 It's a familiar story to most of you, but it's worth retelling.
Looking back on losing his first two Tests as captain to South Africa by more than an innings, McCullum told the New Zealand Herald:
"If we're being honest, at that point the perception of the New Zealand cricket team was that we were overpaid, underdelivering, lazy prima donnas. And I was one of those prima donnas.

"We decided that we couldn't win every game, but what we could do is change the way we played and the attitude towards us and the attitude within the group."
There's a lot of talk about brands of cricket, but McCullum's New Zealand really did draw something up and then try and live up to it. A lot of this week's paeans to McCullum have focused on the intent, but the latter part of the equation is not to be underestimated either.
Without sufficient talent, his team's relentlessly attacking approach would have ended up as a great string of irresponsible dismissals and a series of massive defeats. They didn't exactly conquer the world, but they bested a fair proportion of it and pretty much held their own against the remainder.
This approach turned New Zealanders into New Zealand cricket fans – a handy conversion for a game that often seems to be atrophying within the smaller nations. It turned cricket fans the world over into New Zealand fans as well and as a bonus taught everyone the valuable lesson that you shouldn't conflate attack with aggression.
"We're going to play an attacking style of cricket; in the field we're going to chase the ball to the boundary as hard as we can; you're going to see a team that works incredibly hard off the field; and you're going to see a team that's respectful and even-keeled in their emotions.

"We want to be known as a team that respects the game, works hard and plays attacking and innovative cricket. The country can cop us losing, but they can't cop us being those other things."
This isn't necessarily about New Zealand's being the perfect way to play cricket or anything. It's more that the international cricket ecosystem had been lacking the kinds of checks and balances that McCullum's New Zealand provided. Put simply, must positive cricketing intent go hand-in-hand with acting like a cock-faced bell-end?
No, not really. Who knew?
'Everyone with half a brain' you might answer, but yet there did seem to be a general feeling that even if positive intent weren't inextricably linked to cock-faced bell-enddom, no-one on the international circuit was actually willing to try and disprove the theory.
McCullum's New Zealand were willing and they proved their point unarguably by becoming pretty much the most attacking Test team there's ever been while simultaneously forging a (somewhat unfair) reputation as pious nice boys.
Cricket in New Zealand is better for Brendon McCullum's stint as captain and so is international cricket as a whole. Plus he played some innings. Top job.